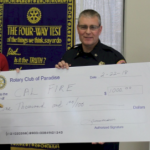 Paradise Rotary Club Donates $1000 to the Fire Safe Council to help update and reprint the Ready, Set, Go Evacuation Plan and Emergency Fire Zone Maps. The check was presented by Rotary President and Town Manager Lauren Gill. Shown here is Chief Hawks, Cal Fire Chief. According to Phil John, Paradise Rotarian and Fire Safe Council Chair "There have been only minor changes, but the big ambition is to mail these documents to every resident of Paradise and Magalia".
According to Chief Hawks, they are very close to that goal. He thanked the Club for making a serious contribution toward that end ($1000). PG&E also contributed a sizable donation to Butte County wild fire preparedness projects.
Chief Hawks says, "The most important thing you can do is to [actually] read the plan." He says do this before there is smoke in the air. Another great update is an addition to the map. It will be a URL for computer or smart phone that takes you to a page with a tool that identifies evacuation zones based on starting address. Click on the function, enter an address and the evacuation route will be shown. The new Ready, Set, Go Evacuation Plan and Emergency Fire Zone Maps will be mailed in May. Chief Hawks says he wants to wait until people start thinking about FIRE rather than FREEZING!