Welcome To The Paradise Rotary Club

WE-CONE
Our Club's  Weekly Online Newsletter
Proceedings of the August 8, 2019 Lunch Meeting of
THE ROTARY CLUB OF PARADISE
Brian Gray, President of the Rotary Club of Paradise, began this Lunch Meeting with an Invocation by Rob A. and the Pledge of Allegiance led by Larry H., or Taylor G., or Tim T? (Not sure.)
Table Introductions:
Tom G. passed the mic to Mary B. who introduced Ev Duran, our speaker, and Ev's mother, Susan Davis. Larry H. introduced his wife, Phoebe.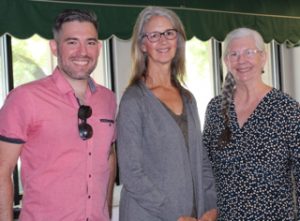 ANNOUNCEMENTS FROM THE PODIUM
Pres. Brian began with a reminder that he has a collection of Rotary Animal Ambassadors. Anyone traveling is encouraged to take one along and bring back photos of the travels. Club members that have traveled with them can attest to how they start conversations about Rotary. That's a good thing!
Next, Pres. Brian repeated a promotion of the District 5160 Fall Training Assemblies. They will be held in Fairfield on October 5th and in Redding on October 19th. Both Pres. Brian and PDG Pam G. will be presenting classes at the Redding Assembly. Both Assemblies include a fun lunch. The information presented at these events are solely intended to help Clubs prosper. There is typically information about recruiting members, motivating members, promoting Rotary, finding and executing Projects, and so much more. Attend just a couple of these Assemblies and you'll make friends with other motivated Rotarians, District-wide! Now more than ever, our Club needs fresh ideas, energy, and best practices. DG Tina Akins has sent everyone an invitation to attend. Don't disappoint! Accept! Join us! Free food!
Lastly, Pres. Brian returned to the subject of Projects. We need 'em! We have money and labor to contribute to a variety of projects that Paradise organizations might be contemplating. Or we can think up our own as contributions to the rebuilding of Paradise. Recall that in recent years we cleared weeds and brush along Bille Road and refurbished bus stops. The multiple benefits include Club Member involvement, Club promotion, and making meaningful contributions to Paradise. Pres. Brian says to keep your ears and eyes open to pick up potential projects.
BOARD OF DIRECTORS MEETING SUMMARY
❖ Sherry S. gave a report identifying Club Members that are moving or whose membership is in question. See Sherry for details.
❖ Dana G. described a new park project named Hope Plaza to commemorate the spirit of Paradise before and after the Camp Fire. There would be recognition of the heroes of the day and the spirit that is rebuilding Paradise. Dana will no doubt present more details as they develop.
❖ Pres. Brian and Pam G. will be attending the Rotary Zone Institute in September and will staff a booth to continue soliciting help in rebuilding Paradise. They need ideas on ways to continue the promotion of rebuilding.
❖ Let's all go to Hawaii next year…and attend the RI Convention while we're there!
❖ The Club will have a booth at Johnny Appleseed Days, Oct 5th & 6th. The Club is a MacIntosh Sponsor. (I like that.) We need staffing and ideas on how to promote the Club.
❖ Dana G. is pursuing a booking at the Butte Creek Country Club as a location for our Christmas Party again this year.
❖ The Chico Noon Club is willing to help us put on the Crab Feed again this year, but they don't want to be the lead on anything. The Durham Club is also willing to help. We will need our Club Members to fill the leadership roles. Also, it's time to begin collecting AUCTION ITEMS.
Special Errata Note: Last week I reported that Rick L. & Kathy M. will be "leading the charge" at the Crab Feed. Poor word choice. They offered to be major players in the kitchen, NOT the whole event.
ANNOUNCEMENTS FROM THE PODIUM
Rob A. stood to mention that Channel 12 News gave a couple great shout outs to Rotary on Wednesday night. Rob reported that the Chico Sunrise Rotary Club donated a lot of school supplies to PUSD. Also, at the Tuesday Night Community Meeting in Paradise, special recognition was given to Rotarians that participated in the Intermediate School (now Paradise Elementary School) campus cleanup project. Specifically mentioned were Bob D. and Rick L.
Dean F. followed up with a report on the school campus cleanup. Dean and Donn employed weed eaters, Bill & Patty M. pruned and weeded the demonstration garden, Rick L., Kathy M. & Jim J. assisted in the woodshop cleanup. Gary L., and Scott S. were at work somewhere, too. And we all know Sheri P. helped organize our efforts. Sherry S. mentioned that she convinced Scott & Hope Stambaugh they should attend. Later, Sherry received a thank you note from Hope saying, "We had a ball."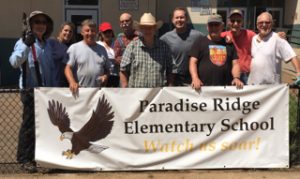 Pres. Brian added that Cory B.'s kids created posters for the school and Pres. Brian delivered them. While there, he was thanked for our Club Member's participation.
OUR LUNCH MEETING PROGRAM
Mary B. introduced Everett Duran who presented our Lunch Meeting Program. Along with family, Ev moved to Paradise in 1991. He attended PES, PIS, and PHS where he graduated as Class President in 1992. He has worked for the Golden State Warriors, S.F. Giants, and the Spartan Race where he won 4 Emmies. Mary encouraged him to apply for a Paradise Rotary Foundation Grant, which he received. With the Grant, he'll produce a documentary on Paradise and the Camp Fire titled "All It's Name Implies."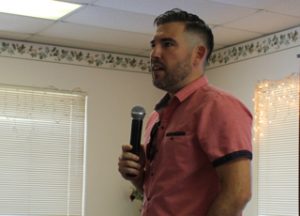 Ev began by thanking the Club and the Foundation for the funding, saying it made the documentary possible. Ev began his working life in Paradise at K-Mart, Round Table, Paradise Garden Center and Juice & Java. He did a short stint at Best Buy, but then headed out of town. His Video Production career was triggered in a PHS Junior Year class in Broadcast Journalism. Buy chance, he made a connection that got him an internship with the S.F. Giants.
To have the courage to make a documentary covering this gargantuan subject speaks volumes of Ev's character. His goal is to produce in video the true feelings of the people of the real Paradise. Many others may attempt the same, but chances are, it's not their town like it's Ev's town. To capture what he needed, Ev conducted interviews. He began visiting Paradise about 2 weeks before it was open to the public. He has been working at a full time job in SoCal, editing in the evening, and commuting to Paradise on weekends to work on the film. Ev says he'd like to stage a premier showing, in Paradise, around November 8th.
During his Program, Ev showed us an introductory short of him describing his goals. He has produced a Trailer, the first of 3 or 4 he says, which he shared with us. Ev admitted that even though he directed, taped, edited and assembled the trailer, he gets emotional when he watches it. He also confided that the project effort has affected him psychologically and emotionally.
The best way to know the meaning of his efforts is to go to his Facebook page at:  www.facebook.com/AllItsNameImplies/.
That page includes the trailer he showed us at our Lunch Meeting.
FUTURE PROGRAMS
08/15/19 – Rick Silva Presenting His November 8, 2018 Experiences
08/22/19 –
08/29/19 – Monica Nolan Presenting The Latest From The Paradise Ridge Chamber of Commerce
09/05/19 – Fernando Guttierrez From Liga International, a.k.a. The Flying Doctors Of Mercy
There always seems to be at least one photo bomb in the crowd.