Welcome To The Paradise Rotary Club

WE-CONE
Our Club's  Weekly Online Newsletter
Proceedings of the Sep 12, 2019 Lunch Meeting of
THE ROTARY CLUB OF PARADISE
Brian Gray, President of the Rotary Club of Paradise, began this Lunch Meeting with an Invocation by Rob A. and the Pledge of Allegiance led by Scott S.
Before beginning the formal Lunch Meeting, Pres. Brian requested that we observe a Moment of Silence in remembrance of the Heroes and Victims of 9/11/01.
Table Introductions:
This Lunch Meeting was so exciting that we skipped table introductions! None the less, Guests and visiting Rotarians are worthy of mention. They included Kelly Gordon, prospective member sponsored by Casey T., guest Sherry Rank, visiting former Club Member Brian Gibaldi, and Chico Sunrise Rotarian Greg Melton, our Speaker.
BOARD OF DIRECTORS MEETING SUMMARY
✦ Pres. Brian began on a positive note. The Treasurer's Report revealed we still have some money.
✦ Due to health issues, Al Sperske has dropped membership. He's in Martinez with his daughter.
✦ Club RI Foundation chairs, Kathy M. & Bob I. hope to do another Foundation Event this November.
✦ We have some prospective members including Kelly Gordon who is "in the membership pipeline."
✦ Led by Dana G., we discussed the Hope Plaza Project, the subject of our Program at this meeting.
✦ Our Club Treasury is down because fund raising is down. We moved $40,000 to the Paradise Rotary Foundation's Club Advised Fund earlier this year. Those dollars can be spent on Club Projects.
ANNOUNCEMENTS FROM THE PODIUM
A Zone Institute Summary
Pres. Brian reminded us that he and Pam attended the Zone Institute last week. During one of the Plenary Sessions, a TED Talk speaker focused on "The Why." The rhetorical questions: Why are you in this room? Why is our Club in existence? Why do we care? It inspired different thinking. Pres. Brian stated we'll be exploring The Why in the next couple of weeks. It is expected Michael Juric will also explore The Why in Redding at the October 19th Seminar. Pres. Brian invited PDG Pam to elaborate on the Zone Institute.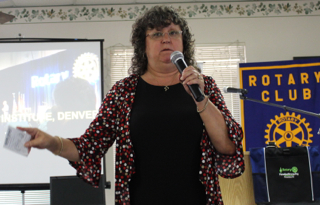 Pam G. described the Zone Institute as being like the RI Convention without the 40,000 people. Our Zone has been expanded, so this Institute included most of the Western States, Hawaii and British Columbia. Through short presentations, Pam and Pres. Brian were able to talk to virtually everyone about Paradise and our future needs. Pres. Brian found out in Germany that about 61 Million unused dollars are returned to the RI Foundation by Districts every year. We will be looking for ways to tap into those "refunds" as we identify projects. Pam explained, for example, a Club in Canada would be willing to partner with us in funding (through a Grant) a project that we identify. Reverse International Grants, where overseas money is granted stateside, are also possible.
Pam also related a very 21st century Rotary story. The Council of Legislation discusses and votes on Rotary rules and rule changes. Rotaractors wanted to be concurrent Rotarians, which meant a rule change. The Council voted against the rule change. Then sitting RI Pres. Barry Rassin took to social media and suggested Rotaractors contact their representatives. A re-vote was taken, and it passed.
The Zone Institute will be in San Diego next November and once again, we'll have a Booth. The rules were recently changed to allow all Rotarians to attend. Pres. Brian emphasized that identifying projects, even big ones, is what we need now. Clubs will donate to known projects.
Pres. Brian reminded us that Sep 15th and the Durham Harvest Festival are right in front of us. The Durham Club has helped our Club and our Community a lot. They contributed $30,000 to buy backpacks for our students. They worked our Crab Feed. We have a long history of being friends. Even if you aren't working at the Harvest Festival, pay it a visit, find a Durham Rotarian and say thank you. It's a huge car show, assembly of Craft Booths, and a couple good meals. Check it out at their website: https://www.durhamrotary.org/Harvest/index.htm. AND it's FREE.
The next important event is Johnny Appleseed Days, Oct 5th & 6th. The Club Board contributed $3000 which made us a MacIntosh Level Sponsor. This level of sponsorship includes a 10' X10' booth. To this point, no Club Members have stepped up to staff the booth. JAD is a 2 day event. We're not preparing food, selling crafts, or providing entertainment. We will be selling Rotary and our Club. We can do this in shifts! We really, really do need to put the Rotary name in front of attendees from Paradise and beyond. It's easy! It's fun! Pres. Brian stated that without staff, we can't do the booth.
The Paradise Rotary Foundation approved a Grant of $13,000 for the Paradise Adventist Church to purchase the contents of Hope Kits, a collection of necessities every family encounters when they move into a new abode. The kits will be assembled Sunday, Sep 15, 10:00 AM at the CMA Church. Then, at 1:00 PM there's a potluck lunch, and from 2:00 to 4:00 PM the Hope Kits will be distributed at the Paradise Adventist Church Healing Garden. Contact Maureen W. for more info.
OUR LUNCH MEETING PROGRAM
Dana G. introduced our speaker, Greg Melton, to present his vision for Hope Plaza. Greg boasts 25 years experience in the field of landscape and irrigation design. He attempts to design places where people gather, celebrate, and create community. At Butte College Greg teaches landscape & irrigation design, integrating operation, maintenance, and sustainability into his classes. He shows customers the big picture of pre-design possibilities to finished product. Some of his past efforts are Chico City Plaza, Veterans Memorial Oroville, the Rail Yard Extension of Truckee Main Street, and The Lower Bille Park Project.
Wait! We Gotta Do The Raffle!
Sherry S. interrupted the Program flow by reminding Dana that we needed to do the raffle. So we did it.
Neither ticket holder found the queen. Back to the Program…
Greg Melton's presentation gave us an overview of the features of Hope Plaza. As he described Hope Plaza's physical features he included his emotional motivation for their existence. Every feature comes from purely Greg's vision of what visitors would want to see in Hope Plaza. Hope Plaza was designed with an abundance of sensitivity and thoughtfulness backed by Greg's experience in designing purely functional parks and contemplative spaces.
The major components of Hope Plaza are the Reflection Sanctuary, Hero Plaza, the inclusion of natural elements native to the Ridge, and spaces for the names of Camp Fire victims along with the Heros of the day. Hope Plaza is self contained by design for reaction and emotion reasons. The two subsections of the Plaza look backward at the past and forward to the future.
It should be kept in mind that Greg's concept is just that. Hope Plaza's final design will be probably reached after numerous, lengthy discussions. We are still at the conceptual phase of the project. Dana stated that a review and discussion committee will be formed to go forward. She feels the concept is worthy of the Club's serious consideration as an enduring signature project with possibly the most impact of any Rotary Project in Paradise.
Note that it was impossible to include all of Greg's descriptions of details in this space. His Powerpoint Presentation and his verbal presentation are available to anyone that desires a copy. Contact Donn T. Following Greg's Program, Pres. Brian presented Greg with a ParadiseStrong.org tote bag.
Then, following that, Pres. Brian noticed Brian Gibaldi had paid us a visit—on is birthday! We couldn't resist celebrating Brian G., so we sang Happy Birthday!
FUTURE PROGRAMS
09/19/19 – District Governor Tina Akins On Her Official Visit
09/26/19 – OPEN
10/03/19 – OPEN
10/10/19 – Candace Grubbs, County Clerk Recorder
10/17/19 – Doug Teeter, County Supervisor
10/24/19 – OPEN
10/31/19 – OPEN
11/07/19 – Bev Roberson, Adventist Health, Feather River