Welcome To The Paradise Rotary Club

WE-CONE
Proceedings of the January 09, 2020 Lunch Meeting of
THE ROTARY CLUB OF PARADISE, CALIFORNIA
Brian Gray, President of the Rotary Club of Paradise, began this Lunch Meeting with an Invocation by Bob I. and the Pledge of Allegiance led by John R.
Table Introductions: (Note that we had 9 guests! Good for us!)
PE Tom B. led off by noting that Andrea Reid joined us for lunch having moved back to Paradise full time. Also, he introduced a Guest of Maureen W., Joelle Chinnock active in the Maranatha Camp Fire Shed Project, doing vital work in Paradise.
Mary B. seated with amazing Rotarians was joined by Guest Gregg Mowers, prospective Club Member. Danny S. introduced Town Council Member Mike Zuccolillo, prospective Club Member Aaron Singer, and author Antionette Peppler who wrote a book titled, Out Of The Ashes.
Bill M. was joined at the table by our outbound Rotary Exchange Student, Ayla Kirby, and her mother Diane.
Bob I. was seated with PDG Pam G., Shari P., and our Program Speakers, Jenny Fales and Nicole Bateman of Habitat for Humanity.
Jim J. claimed to have 4 Rotarians so famous that he wasn't sure he could remember their names.
Sherry S., alone at the Kid's Table, stated that since she was late, some Members may not have signed in (remember signing in?). She warned that everyone needs to sign in because ATTENDANCE ACCOUNTING RESTARTED JANUARY 1st. Pres. Brian added, "Sign in or pay twice."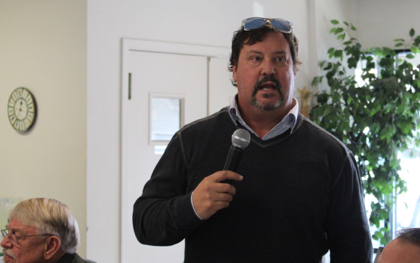 ANNOUNCEMENTS FROM THE FLOOR
Danny S. provided an update on his ongoing project to hold live, fund raising concerts to provide financial assistance to recover from disasters like the Camp Fire. Money raised would initially be used in Paradise, but later in other communities needing help. Danny and Ron J. sought and secured a partnership with the North Valley Community Foundation. He and Ron were encouraged to proceed at this morning's Club Board meeting. They are hoping for a premier concert on May 8, 2020, 18 months after the Camp Fire.
Tom G. informed us that Heidi G.'s mother is confronting a serious cancer battle. He offered that he would bring an appropriate card for Member well wishes next week. Keep Heidi and her mother in your thoughts and prayers.
Donn T. let everyone know that a new Residential Rebuilding Permit Checklist has been produced. It's more comprehensive than previous versions. See it online at: www.makeitparadise.org.
ANNOUNCEMENTS FROM THE PODIUM
Pres. Brian began with a reminder that Lunch Meeting attendance accounting has been re-established as of January 1st. (It was forgiven during the year 2019.) Just like "old days," be sure to sign the attendance list when you arrive each week. Make-ups are very easy. There are lots of opportunities. See the list below.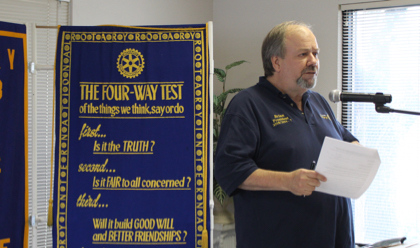 Board of Directors Meeting Summary
● The By-Laws and Rules Of Procedures will be examined and updated if necessary.
● Crab Feed — Pres. Brian and Cory B. attended both the Chico Noon and Durham Club Meetings to sell tickets and receive silent auction items. Fortuitously, on Tuesday Chico Noon presented their 2019 Project Wrap Up, which was very interesting and informative. That evening, the Durham Club held their Crab Feed meeting! The Durham Club Crab Feed sold out in 2 weeks. Being a small club, to limit the scope of work, they sold only 200 tickets.
Our tickets are selling pretty fast; about 300 tickets have been sold. 500 tickets sold is a sell out. Club Members should buy tickets NOW. We still need high value, live auction items. In the past we've sold a high end Bicycle, a S.F. Bay Cruise, Puppies, and Time Share Stays. Also, don't forget about Silent Auction items. They're needed too!
● PE Tom B. will be attending Pre-PETS (for District 5160 PE's only) and the real PETS for all the PE's (490) in our ZONE.
● Our 5160 District Conference is May 1 – 3, 2020 in Redding. Our Club has signed up to do a Food & Drink booth at the Friday Night Social. Heidi E. & Donn T. have volunteered to manage it. Pres. Brian and PDG Pam G. will be hosting the Paul Harris Society & Major Donor Social, which is separate from the Club Member social.
● Summer Youth Camps – Each year the Club budgets to sponsor 2 students for Camp Royale and 2 students for Camp Venture. We have the Camp Royale students identified. We need to select 2 High School students for Camp Venture, a Business Prep Camp. In a week campers form teams, develop a business model, and present it to a committee at the end of the week. It's geeky, it's educational, it's leadership training. Help us find those students!
● Past Presidents Wall Plaques are being replaced (for free)! Contact Sherry S. if you'd like yours replaced.
● Australian Wild Fire Financial Relief – Past RI President Ian H.S. Riseley is managing an international Rotary donation fund for Australian Wild Fire Relief. The Board voted to send $3000 to the fund. Historically, we haven't supported disaster relief. The Camp Fire has brought us a different perspective.
● Financials — Simply stated, we still have money in the bank, but not as much as last year. That's why the Crab Feed, our major fund raiser right now, is important. Keep in mind, Paradise Rotary Foundation money is generally not available for Community Projects outside of Camp Fire Recovery.
Pres. Brian elaborated a little more on the depth of help we are receiving for the Crab Feed. The Crab Feed Committee met on Monday at LeAnn Chrisman's (Chico Noon Club) office. Committee members include Rotarians from the Durham, Chico Noon, and Anderson clubs.
The date for the Clam Chowder Cook-Off at Rolling Hills Casino was moved from the end of February to the 8th of February, the weekend after our Crab Feed. Pres. Brian said he wasn't sure he'd be up to totally managing the event, but he can help make arrangements. To actually do the work of decorating, cooking, serving, and clean up, we only need 6 people. Pres. Brian stated he hasn't committed to our Club's participation yet, pending interest and commitments from Club members. Contact Pres. Brian to sign on. He must notify the Corning Club regarding our participation by January 24th.
FOUNDATION ANNOUNCEMENTS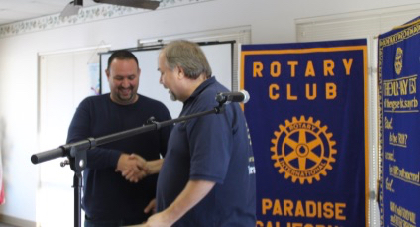 Pres. Brian summarized how the RI Foundation operates financially. Money collected each year is invested for 3 years. Dividends and interest pays most of RI's operating expenses. After 3 years, half of the money we sent comes back to our District to be distributed as Grants, which we apply for annually. Last year we applied for and received a District Grant to replace some of the flags lost in the Camp Fire. Some flags were previously donated. Mike Zuccolillo is Chairman of the Parade of Flags Committee. He was on hand at our Lunch Meeting to receive a check ($7,000) to cover the cost of some of the flags and a shipping container in which the flags will be stored.
Mike Zuccolillo expressed appreciation for our donation and speculated that all 1100 flags used in the Parade of Flags will be available for display next year. Steve & Lori C. are busy embroidering names on the replacement flags. Mike noted that Rotary and the Daughters of the American Revolution were the major contributors to the success of this program. He also stated he was surprised and grateful for the outpouring of interest and money by the community in support of this effort.
Next, Pres. Brian called on Bob I., Co-Chair of the Club's RI Foundation Committee to the podium. Bob began by noting that receiving a 1st Paul Harris Fellow recognition is a memorable occasion. We have one member who did just that at this Lunch Meeting. Bob called Cory B. to the front to receive her certificate and pin recognizing her as a brand new Paul Harris Fellow. Congratulations Cory!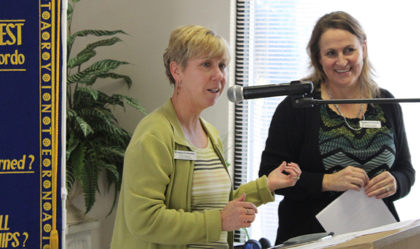 OUR LUNCH MEETING PROGRAM
Bob I. introduced our Program Speakers from Habitat for Humanity Butte County. Nicole Bateman is their Executive Director and Jenny Fales is their Development Director. Nicole joined Habitat for Humanity about 6 1/2 years ago, Jenny joined 3 months ago.
Previously, Jenny worked for a CA State disaster relief agency allowing her to see the needs of people following the Camp Fire and the other wild land fires of recent years. She pointed out the dual benefits of Habitat for Humanity. It creates affordable housing for those who need it and it furnishes a means for the community to get involved and provide that housing.
Habitat International was founded in 1976. Just why and how it was founded is well documented on the organization's website. It's an interesting story. Now there are 1400 affiliates in the U.S. and 70 international affiliates. Over 9.8 million people around the world have been helped. Habitat for Humanity began in Butte County in 1993, with a first home completed in 1996. Since then, they've completed 34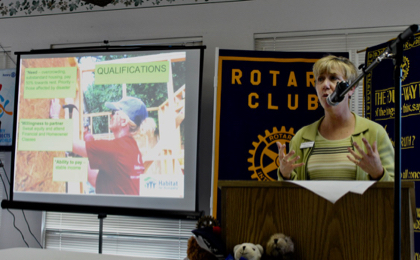 homes spread between Chico, Oroville, & Paradise.
The homes offered following construction are a "Hand Up," not a "Handout." As such, the process of being offered a home centers on the potential homeowner. Their application is reviewed by a Board to determine worthiness which could include current overcrowded, substandard housing, or paying 50% of income to rent. Potential homeowners must be willing to attend Financial and Homeowner Classes. They must be able to pay the mortgage payments from a stable income, however modest.
In Butte County, the top priority is recovery after the Camp Fire. Habitat has purchased 6 properties in Paradise on which they'll build houses. They have helped multiple families to date. But the effort continues. Habitat for Humanity Butte County continues to partner with multiple organizations and agencies. Visit their website to better understand how dynamic and energetic this organization really is.
FUTURE PROGRAMS
01/16/20 – Joelle Chinnock, Maranatha Camp Fire Shed Project.
01/23/20 – Program TBD. (Waiting for Presenter Confirmation)
01/30/20 – Program TBD. (Waiting for Presenter Confirmation)
MORE OPPORTUNITIES FOR LUNCH MEETING MAKE-UPS:
Board Meetings, Socials, Club Participation Events, Projects, Club Volunteering Events, and Interact Club Meetings
ENTER MTG MAKEUPS ON THE DISTRICT DATABASE
Chico Sunrise – Thurs 6:45 AM, Canyon Oaks Country Club
Chico Noon – Tues Noon, Elks Lodge (East Ave. & Manzanita)
Colusa – Tues Noon, Colusa Country Club (On Hwy 20)
Corning – Wed Noon, Rolling Hills Casino, Corning (By I5)
Durham – Tues 6 PM, Butte Creek Country Club (South Chico)
Orland – Mon Noon, Round Table Pizza (302 E. Walker St.)
Oroville – Tues, 7:00 AM, 2385 Montgomery St., Oroville
Oroville – Tues, 12:00 PM, 2385 Montgomery St., Oroville
Paradise – Thurs, 12:00 PM 2565 Zanella Way, Chico
Willows – Thurs Noon, Round Table Pizza (1237 W. Wood St.)
Rotary Club of Paradise Board Meetings:
Monthly, 2nd Thursday at The Farmers Skillet restaurant,
690 Rio Lindo in Chico. @ 7:00 AM