Welcome To The Paradise Rotary Club

WE-CONE
Our Club's  Weekly Online Newsletter
Proceedings of the November 07, 2019 Lunch Meeting of
THE ROTARY CLUB OF PARADISE
Brian Gray, President of the Rotary Club of Paradise, began this Lunch Meeting with an Invocation by Gary L. and the Pledge of Allegiance led by Tim E.
Table Introductions:
We had quite a few guests this week, a happy thing, so elaboration was unavoidable.
● Sonny V. introduced 2 guests from Children's Community Charter School (CCCS), Greg Weddig & Michelle Farier. (Sonny speculated that they may be interested in Club Membership.) Also seated with Sonny was Visiting Rotarian Drew Costa, Branch Manager of Tri-Counties Bank in Chico, another prospective member.
● John H. introduced guests Ayla & Diane Kirby. Ayla is our outgoing Rotary Exchange Student (see below), Diane is her mother.
● Tom G. announced that our dear friends Phil & Carol Koenig, former members, were visiting us today.
● PE Tom B. noted there were 2 Past Presidents and a future President, but all solid Rotarians at his table.
● Pam G. began by introducing daughter Cory, but let Cory introduce the students she brought with her from Flagstaff, AZ. The students are Darla, Lauren, Cassidy, Jessica. Cory's husband Trevor.
Casey T. introduced a new Farmer's Insurance agent working in the office that Brian Gibaldi left. (Didn't get her name, but I'll furnish it next week.)
Tim E. noted that Trevor, Jessica, and Cassidy had already been introduced and 1 Past President was about it at his table.
Heidi E. stated that it was Heidi and Sherry at the Kid's Table.
ANNOUNCEMENT FROM CORY OF FLAGSTAFF
Pam & Brian Gray's daughter Cory came forward to describe her mission in Paradise. Cory explained that she brought the students from Flagstaff to do service projects for a week, including the assembly of sheds provided by the Amarath Volunteers International, affiliated with the Adventist Church. The sheds are intended for folks moving back to Paradise in need of secure storage for their possessions.
In addition, Cory's students taught members of Paradise Interact some interpretive dancing. For the past year, the girls have been doing fund raisers for the Paradise Rotary Foundation resulting in their bringing along a check for $1500 for the Foundation, which brings their total contribution to around $7000! Cory, a former PHS Bobcat, had a difficult time talking about the whole post fire situation and paused more than once to regain composure.
ANNOUNCEMENTS FROM THE FLOOR
Trudi A. reported a number of exciting things about the Interact Club. To begin, she thanked Ayla Kirby for her contributions to the club. Next she noted how all, including the males, participated in Cory's students' dance class. Then she thanked the Rotary Club for the donations toward the Welcome Home Kit, which the Interactors assembled. Lastly she announced an Interact Fund Raiser in partnership with West Side Pizza on December 1st. West Side Pizza has declared that Pizza purchased that day will create a contribution to the Interact Club. She publicly praised their support for Interact. Trudi closed by repeating the term amazing to describe the Interact Club members this year.
Kathy M. stood to remind us that November is Rotary Foundation Month and that she was collecting contributions to the Foundation on the spot. Kathy and Bob are encouraging every Club Member to contribute at least $25 each year to help us achieve a 100% Paul Harris Club. In fact, Heidi E. and Gary L. made notable contributions at the Lunch Meeting. Kathy & Bob will be presenting a Program on the Rotary Foundation on 11/21. If every Rotarian gives even a little, the Foundation can continue to do great things around the world.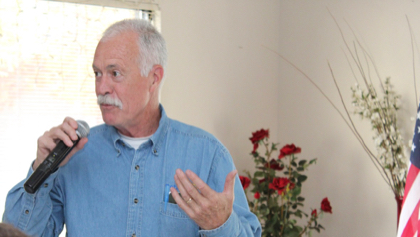 PE Tom B. noted that he was dressed humbly due to participating in the "Chico Office Rotation Program." He has been putting together furniture in his new office that used to be Jon W.'s old office. Tom related how this was his 3rd move; from Humboldt Rd. to East Ave., and now to Forest Ave. Previously John R. relocated. Recently, Tim E. did the same. Who's next?
Maureen W. began by letting us know that the Paradise Adventist Academy Girl's Volleyball Team had a great year, made the playoffs, but lost to a strong team in Burney. Maureen's daughter plays on the team. Continuing, she noted that on Wednesday, 11/06, a small team of Club Members held a Purpose Statement Meeting. They've working on a first draft to present to the Club Board of Directors in December.
Pres. Brian called Maureen back to the podium, noting that she missed DG Tina's visit and has been absent when Pres. Brian was present. So at this Lunch Meeting both were present and he informed her she has been recognized for all she does with a DG Tina "1+1 = 3, It All Adds Up" Pin and an explanatory certificate.
Shannon H. is Dana G.'s assistant in handling the details of the Christmas Party. It's scheduled for Wednesday, December 11th, at Butte Creek Country Club on Estates Drive. Tickets are $45 each. Shannon circulated an RSVP sign-up sheet and informed us that there were flyers on the back table. Note that even though it's on a Wednesday night, IT'S A MEETING OF RECORD FOR THE WEEK.
Pres. Brian added that the main course will be prime rib. He encourages everyone to bring friends, family (including children), neighbors, or co-workers.
ANNOUNCEMENTS FROM THE PODIUM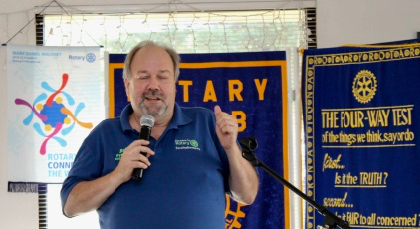 Pres. Brian let use know that Cory B. is a baker. She's planning a "Cookie Party." The plan is to hold it at Shelley's, our Lunch Meeting venue, because they have a kitchen. We're not sure when just yet, or many of the details that Cory has in mind, but stay tuned. It should be a fun time. Recall that several years ago we had a Baklava Baking Fund Raiser at Mary & Paul's place. It proved to be lots of fun.
Pres. Brian announced that Treasurer Jon W. would be sending out Club and RI dues invoices soon. It is requested that when you get the bill, pay the bill. Missed meeting fines will be re-instituted in January. Attention to your commitment to Paradise Rotary is important because it translates to Meeting attendance which in turn inversely correlates to missed meeting fines. RI forgave us accounting for missed meetings for this year, but not forever. Please be prompt. The Club must pay RI dues in January.
Pres. Brian offered some guidance regarding participating in the Camp Fire Remembrance events beginning on November 8 and lasting through the weekend. Personal emotions and contemplations are just that—personal. He encouraged each of us to act based on our own feelings. The Clampers planned to display 85 memorial flags on November 8th. We will be participating in the Parade of Flags on Veterans Day, not usually done, but appropriate this year for several reasons. (Rotary participation did happen. Report to follow at our next Meeting.)
RAFFLE
This was a week of Prosperity. Heidi E. held the first lucky ticket and Rob A. held the second. No Queen showed up this week. Maybe next week?
OUR LUNCH MEETING PROGRAM
Bev Roberson, our scheduled Speaker encountered a last minute diversion. So, we didn't have Program, per se. We did fill the time with some valuable information, though…
Kevin K. stood to extol the virtues of the Interact Club and the virtues of attending meetings. A major effort is underway in attempting to get Rotarians and Interactors together. The best method right now is to attend a bi-monthly meeting of the Interact Club. Meetings are held Mondays at 633 Pearson Rd, 4:00 to 5:00 PM.
Kevin went on to introduce Ayla Kirby. She'll be our Outbound Rotary Exchange Student next year. The process begins this year, though. She has a pretty lengthy paperwork effort ahead of her. Kevin asked Ayla to tell us about herself and her plans.
Ayla stated that she is involved in Interact, the Rain Forest Art Project, and Link View. It is clear that Ayla is an artistic student, having passed around her sketch book. That drew her to the Rain Forest Art Project at PHS. The students are creating murals out of tile and glass chips to enhance the campus atmosphere. Their current large project is one of a Bobcat that will be prominently displayed near the library. Ayla is also involved in the Academic Decathlon. The structured, standardized program presents a broad range of subjects students must study and be tested on, hoping to qualify for the statewide competition. Turning to the Exchange Student program, Ayla hopes to go to either Austria, Switzerland or Sweden. She has an interest in learning the German language and maybe assisting in an English instruction program while she is visiting.
Pres. Brian reminded us that elections are coming up. A list of Members eligible for Board of Directors service will be available next week. A central theme is the need for new, fresh ideas which equates to new, fresh Members on the Board. We will be electing 3 new Board Members. So if you are thinking about taking your name off the list, don't do it. "If you've never been on the Board, now's the time. We really need your input," says Brian.
Mexico! Pres. Brian gave us a brief tutorial on the Wheelchair Foundation and Rotary's contributions in Mexico. The Foundation provides about 100,000 wheelchairs a year around the world. They are variously sized, with locale oriented features. Some years ago Brian & Pam traveled to Monterey, Mexico to help the local Rotarians with the wheelchair distribution. Then, five years ago they returned with daughter Cory along. Cory assembled a wheelchair for the distribution, too. While helping a very senior gentleman into the new wheel chair she had assembled, Cory had her Rotary "aha" moment. She could see how it changed his life. The Wheelchair distribution events are held in the Spring.
Pres. Brian related all of the above and more for 2 reasons: 1) Participation in an International Project can change your life; 2) Donating to the Rotary Foundation changes the lives of thousands of people you may never meet. Choose your favorite cliche. It all adds up. You really do make a difference. Rotary Connects the World.
FUTURE PROGRAMS
11/14/19 – Walt Schafer, Honey Run Covered Bridge
11/21/19 – Bob I. & Kathy M., The Rotary Foundation; November is "TRF (Foundation) Month
11/28/19 – Thanksgiving Day, No Meeting
12/05/19 – Casey Taylor and Bob Irvine
12/11/19 – Club Holiday Party, It's A Wednesday! Butte Creek Country Club @ 6:00 PM
ENTER MTG MAKEUPS ON THE DISTRICT DATABASE
Chico Sunrise – Thurs 6:45 AM, Canyon Oaks Country Club
Chico Noon – Tues Noon, Elks Lodge (East Ave. & Manzanita)
Colusa – Tues Noon, Colusa Country Club (On Hwy 20)
Corning – Wed Noon, Rolling Hills Casino, Corning (By I5)
Durham – Tues 6 PM, Butte Creek Country Club (South Chico)
Orland – Mon Noon, Round Table Pizza (302 E. Walker St.)
Oroville – Tues, 7:00 AM, 2385 Montgomery St., Oroville
Oroville – Tues, 12:00 PM, 2385 Montgomery St., Oroville
Paradise – Thurs, 12:00 PM 2565 Zanella Way, Chico
Willows – Thurs Noon, Round Table Pizza (1237 W. Wood St.)
Rotary Club of Paradise Board Meetings:
Monthly, 2nd Thursday at The Farmers Skillet restaurant,
690 Rio Lindo in Chico. @ 7:00 AM