Welcome To The Paradise Rotary Club

WE-CONE
Proceedings of the February 13, 2020 Lunch Meeting of
THE ROTARY CLUB OF PARADISE
Dean Fender Past President (2012-2013) of the Rotary Club of Paradise, began this Lunch Meeting with an Invocation by Bob G. and the Pledge of Allegiance led by Gregg Mowers.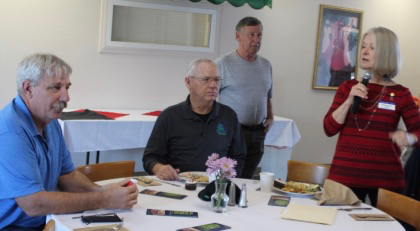 Table Introductions:
Kathy M. introduced multi-time visitor Earl Phillip who is considering membership and Gregg Mowers who, having been approved by the Board, is beyond considering—he's ready for induction!
Introductions Interruption…
PPres. Dean noted that Aaron Singer was Inducted into Club Membership last week, but didn't receive his New Member Packet. So Dean called both Aaron and Membership Chair John H. to the podium for the presentation.
John H. presented Aaron with his New Member Information Folder, his first Rotary Pin, and his Red Badge Checklist. John informed Aaron that he has 6 months to complete it. PPres. Dean followed with calling on Kathy M. to pass the PH Fellow Kickstarter Basket around. She answered that in fact it was already making the rounds! (In the end, we collected $103 for Aaron to match. Congrats Aaron!)
Back to Table Introductions:
Tom K. claimed he was at a table with truly outstanding Rotarians, the source of their outstandingness is unknown. Bob I. introduced Lauren Kennedy of North Valley Housing Trust and noted that Mary B. and Donn T. were also at the table. PPres. Dean recognized the Kid's Table and the response from the Kid's Table was simply "Sherry Swim."
ANNOUNCEMENTS FROM THE PODIUM
PPres. Dean explained that our Lunch Meetings always include lots of needed announcements. But unplanned announcements seem to show up too. He had a couple himself.
First, Bob I. stood to explain the source of the brochures he placed on our tables. They are from the Chico Food Project, an effort similar to the Green Bag Program he initiated in Paradise. The Chico Food Project is similarly simple. Shop for one non-perishable foot item in addition to your normal quota. Store it in the food bag provided. Set Out the bag on the 2nd Saturday of every other month. The bag will be picked up by a volunteer and taken to the pantry. The Project's web site is: www.chicofoodproject.org.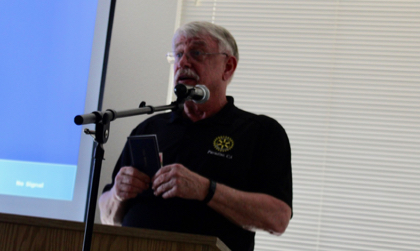 Next PPres. Dean recalled last week's evening Club Meeting in Paradise was attended by 40 people! A lot of spouses attended; very cool. A bottle of wine was offered to all attendees courtesy of Mary Johnson, the winner of the Wine Raffle at the Crab Feed. Dean claimed he checked on the value of his bottle and found it to be $27.00! He followed by taking a straw poll of how many Members enjoyed the day, time and place of the meeting to determine if we should continue. (Agreement was nearly unanimous.) Regarding timing, a second poll revealed that a Dinner Meeting is more popular. The results will be passed on to Pres. Brian.
Regarding the Crab Feed, PPres. Dean provided a comparison between the last 3 years of Crab Feeds. In Paradise, the funds raised averaged $25,000. Last year in Chico, the funds raised topped $40,000. This year the preliminary bottom line is about $35,000. Congratulations to us!
PPres. Dean asked rhetorically, "How many remember Bob Biehler?" Dean announced that Bob Biehler passed away recently. Bob was a beloved Rotarian. A memorial service will be held on February 29, at 11:00 AM at the United Methodist Church in Paradise. Bob I. was asked by the family if Rotary would provide the traditional reception meal after the service. Without hesitation, Bob said, "Yes!" So, he and Dean asked for a "show of hands" from Club Members who would help. Many of us enthusiastically also said, "Yes!"
Continuing, PPres. Dean reminded us that the Chico Sunrise Rotary Club is teaming with CUSD for the Empty Bowls fund raiser supporting the Torres Community Shelter. CUSD Junior & Senior HS students are creating the soup bowls. Tickets are $12.00 each for a bowl of soup and you get to take the hand made bowl home with you. Our Board previously voted to be a $500 sponsor for the event. The soups are prepared by local restaurants. Though there are 2 seatings, the 1st one (5:00) is sold out. Contact Slater & Son at (530) 893-3333 for information about tickets.
PPres. Dean gave a shout out to Chico Sunrise Rotary. Their members bought 20 tickets for our Crab Feed. Ironically, they are having a Fund Raiser, their St.Patrick's Day Gala, on the same night as our Tommy Castro Concert at PPAC, March 14th. Fortunately, Chico Sunrise Rotary created an Online Auction for those who can't attend the event but want to support. Go to: https://e.givesmart.com/events/f9v/ to purchase tickets. Pres. Brian has additional information.
Don't forget about the Rotary District 5160 Assembly on March 21st in Red Bluff. It will be at the Tehama County Office of Education, 1135 Lincoln St. in Red Bluff. Program details will be out shortly, but in summary, the day usually consists of a Beginning Plenary Session, 3 Breakout Sessions, Lunch, and a closing Plenary Session. During the Breakout Sessions valuable information is delivered and energized discussions always take place. Assemblies are definitely a worthwhile investment in time. Register online on dacDB. It's FREE. And, attendees get lunch, typically excellent Deli sandwiches!
Our FEBRUARY 27th LUNCH MEETING will be at Logan's Roadhouse. Shelley's is booked for a different group. The restaurant offers online ordering to take advantage of their quick turnaround lunch service.
Our updated design, but temporary, Club Badges were distributed by Sherry S. The badges Sherry passed out are prototypes. Make sure your name and "Classification" are listed correctly. For changes/updates, contact Pam G.
Next, PPres. Dean delivered a pitch to everyone to help us schedule enlightening Speakers. Pam G. is attempting to schedule our Programs, but she can't do it alone. All Club Members should remain mindful of business associates, neighbors, or leaders of civic organizations who would educate and entertain us. The list of our past Programs is impressive. Our Programs have enriched our meetings and provided knowledge in areas of interest to all of us. All Program suggestions will be considered. Contact Pam!
PPres. Dean read the note in a Thank You Card he received from The Paradise Animal Shelter. The Paradise Interact Club donated $500 to the Shelter through fund raisers. Our own Andrea R. added $100 to the donation. The Animal Shelter folks expressed sincere appreciation for the monetary support. The Interact Club meets every other Monday at 4:00 PM at the Northern California Ballet Studio on Pearson Road. All Club Members are encouraged to attend. Contact Trudi A. or Kevin K. for more information.
The next Paradise Rotary Foundation (PRF) Board meeting will be happening on Wednesday, Feb 19th, in the eventing, with TIME & LOCATION TO BE ANNOUNCED. PPres. Dean encourages anyone curious about what the PRF is up to and how it functions should attend a Board Meeting. They're open. Contact John R., Board President, for more information.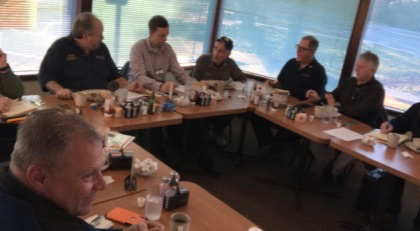 The Paradise Rotary Club Board of Directors had a meeting before this Lunch Meeting. Funding decisions included $1500 to Safe & Sober Grad Night, $1000 to the Paradise Adventist Academy in support of their Spring Dinner Event that they hold in lieu of a Prom.
Danny S. reported that the Clam Chowder Cook-Off was a lot of fun. The Corning Rotary Club took the trophy home, though. He reported that Tom G. was accompanied by Debbe and Obi Gagne. Cory B. and Kathy M. were there too. The judging was cut-off an hour early due to at least one contestant running out of Clam Chowder.
PPres. Dean concluded by encouraging all Past Presidents to jump in when offered the chance to conduct a Club Meeting when they are needed. Dean says, "It's a lot of fun and it's a reminder of just how great our Rotary Club is."
RAFFLE
Since he was handling the mic, Jim J. drew and announced the lucky ticket holders. The 1st one was held by John J. who missed finding the Queen. Jim drew the 2nd ticket and exclaimed, "It's mine!" This, of course, brought on a lot of vocal consternation from the assembled. No, Jim didn't find the Queen either.
OUR LUNCH MEETING PROGRAM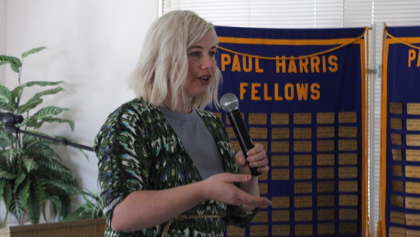 Bob I. stepped to the mic to introduce our Speaker. He said he met Lauren Kennedy about 6 weeks ago when he stepped into a new job with a housing foundation. Lauren arrived in Chico in 2015 help with family matters and decided to stay in 2016. She loves walking the creeks and nature areas. Professionally, she has worked in commercial real estate and developing shelters. She began at the North Valley Housing Trust as a part time employee, but went all in and became the Executive Director.
Lauren used a straightforward slide show to describe the organization and function of the North Valley Housing Trust (NVHT). First, the NVHT focuses on Disabled veterans, seniors living in poverty, people experiencing homelessness and low income families. The NVHT provides the necessary funding to housing developers that are addressing the needs of our most vulnerable community members.
In short, NVHT receives Local Government plus Private Sector Dollars and combines them with State, Federal, and Foundation Grants to create low interest loans. The infused Dollars and Grant Moneys along with the interest gained from the Low Interest Loan are invested, creating more dollars from dividends. NVHT attempts to facilitate land acquisition, project development, and construction to create permanent housing solutions for the above most vulnerable community members by granting loans to developers.
What NVHT has done is create a means to inject donated dollars into a normally for-profit-only system. They are an interface between the brutal, high cost development and construction system and the programs that are truly trying to help solve the affordable housing crisis. They are a go-between agency, not a housing provider. This has solved the problem of trying to mesh the gears of commercial construction machinery with the donation and grant bureaucracies of foundations and government grant programs. It's touchy. It's complicated. It's labor intensive. But it's badly needed.
For an explanation of the NVHT overarching mission, see their website at: www.nvht.org.
FINAL COMMENTS
Past Pres. Dean could simply not pass up this opportunity to reprise his signature motivational acclamation. He requested everyone stand and said, "Okay here we go. Boy am I enthusiastic! Boy am I enthusiastic! Boy am I enthusiastic about ROTARY!"
FUTURE PROGRAMS
02/20 – John R. & Dana G. – PRF Overview & Grant Processing to Date
02/27 – John Holzwarth –  Club Membership
03/05 – In work
03/12 – PE Tom B. – His experiences at Pre-PETS & PETS
04/09 – Mike Crosby, Rotary Club of Brentwood – His Experiences at Polio Immunization Days in India
ENTER MTG MAKEUPS ON THE DISTRICT DATABASE
Chico Sunrise – Thurs 6:45 AM, Canyon Oaks Country Club
Chico Noon – Tues Noon, Elks Lodge (East Ave. & Manzanita)
Colusa – Tues Noon, Colusa Country Club (On Hwy 20)
Corning – Wed Noon, Rolling Hills Casino, Corning (By I5)
Durham – Tues 6 PM, Butte Creek Country Club (South Chico)
Orland – Mon Noon, Round Table Pizza (302 E. Walker St.)
Oroville – Tues, 7:00 AM, 2385 Montgomery St., Oroville
Oroville – Tues, 12:00 PM, 2385 Montgomery St., Oroville
Paradise – Thurs, 12:00 PM 2565 Zanella Way, Chico
Willows – Thurs Noon, Round Table Pizza (1237 W. Wood St.)
Rotary Club of Paradise Board Meetings:
Monthly, 2nd Thursday at The Farmers Skillet restaurant,
690 Rio Lindo in Chico. @ 7:00 AM