Welcome To The Paradise Rotary Club

WE-CONE
Our Club's  Weekly Online Newsletter
Proceedings of the October 10, 2019 Lunch Meeting of
THE ROTARY CLUB OF PARADISE
Tom Baker President Elect of the Rotary Club of Paradise, began this Lunch Meeting with an Invocation by Tom G. and the Pledge of Allegiance led by Bill M.
Table Introductions:
Ugh…we didn't do that. But we did have 3 guests. Phoebe Hartt accompanied Larry to Lunch. Also, we had two special visiting Rotarians. Candace Grubbs, Butte County Clerk-Recorder, visited us from Oroville to be our speaker. Doug Keister, author of People Places & Pieces of Paradise joined us to give us a chance to buy his book. Bonus: He personalized and signed each one. Doug is a member of Chico Sunrise Rotary Club.
ANNOUNCEMENTS FROM THE PODIUM AND BEYOND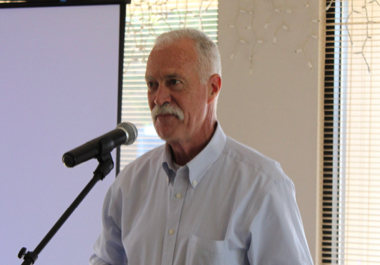 PE Tom began by informing us that the next Club Board of Directors Meeting will take place on Oct 17th, 11:00 AM, at Shelley's Creative Catering. Note that this is just prior to next Thursday's Lunch Meeting in the same location, a perfect chance to attend a Board Meeting that isn't at 7:00 AM!
Next, he mentioned that Doug Keister was selling, autographing, & personalizing his book, People Places & Pieces of Paradise, at a table in the back of the room. His first shipment of 1,000 books sold out. The books he had with him arrived as a 2nd shipment.
PE Tom called on Pam G. to remind everyone about the District 5160 Fall Seminar. It's happening on October 19th at Simpson College in Redding. Pam announced that she had a sign-up sheet to save anyone the trouble of registering—she'll do it for you! This Seminar is special in that we'll have a Paradise Rotary Club exclusive breakout session facilitated by Michael Juric. Also, everyone is invited to a Friday Night Dinner Social at Laura Day Young's house on Friday night. Talk to Pam for details.
John H., Membership Chair, and Pres. Brian plan to develop a Club Member Help database. John noted that some members are still facing issues of housing, employment, and resources. He requests that any member who might have helpful resources that they could offer a member in need, please contact John or Brian.
PE Tom called on Tom K. to relate an interesting recent occurrence. Tom said he got a message from a Sam Smarch from Virginia. Sam wanted to get together with someone from the club "to find out what's going on in Paradise." Tom contacted Pres. Brian and the three met at the Gray's for a couple hours. Sam belongs to the Rappahannock Rotary Club in Fredericksburg, Virginia. Just happened that Tom had an extra Club Flag so there was an exchange. (See pic.) Tom K. told us that Sam revealed that there are some Clubs in Virginia that still don't allow female membership.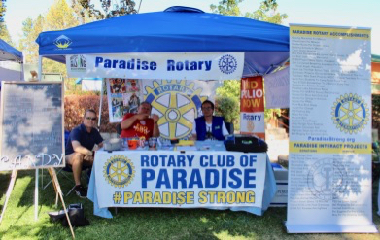 PE Tom drew attention to all the helpers at the Johnny Appleseed Days Rotary Booth. Thanks to all who staffed the booth. A special thanks goes to Cory B. for facilitating the participation of Interactors and friends. If you missed it, Cory brought a "Favorite Candy Bar" vote chalk board and a basket of candy. What a great idea!
John R. didn't have a prepared report, but gave us valuable information on the Paradise Rotary Foundation. Donations are still coming in. Although about $235,000 in Grants have been approved, not all have been funded or acted on due to recipient Project timelines. The Grant to PPAC for a lift is an example. John alerted us to the fact that the next Foundation Board Meeting is on Wed, Oct 16, at Noon at BEATNIK'S Restaurant, at 8th and the 99 freeway.
Pam G. added a comment regarding one Grant. Magneson Tractor Service received a Grant to replace equipment. The business owner stopped by the JAD Rotary Booth on Saturday to express his appreciation of being back in Paradise and contributing to the rebuilding effort. His appreciation is so great that after we begin having Club Meetings in Paradise, he'll be attending (and joining?).
RAFFLE
John J. held the first lucky ticket, but wanted to see the Charlie Swim cards, but Sherry said, "I took 'em home. No Queen for John. Kevin K. held the 2nd ticket drawn, but again no Queen.
OUR LUNCH MEETING PROGRAM
PE Tom introduced our Speaker, Candace J. Grubbs, Butte County Clerk-Recorder. She goes by "Candy." She's been the County Clerk-Recorder for approximately 32 years. She is an elected official and the Registrar Of Voters. Best of all, she's been a member of the Oroville Rotary Club since 1987!
Candy elaborated on her background a bit. She was the 1st woman invited to join the Oroville Rotary Club. When she attended the RI Convention in France, the staff there assumed she was the Club President's wife. She had to correct them. She noted that at that time, British Rotary Clubs were not admitting women.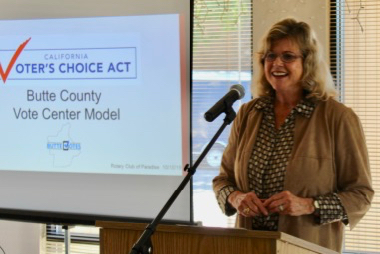 The central point of Candy's Program was Vote-By-Mail. Inherent in that voting posture is the fact that everyone's RESIDENCE address must be accurate. Mailing address and RESIDENCE address can be different. Former Paradise residents planning to return to Paradise need to make sure they are registered for voting as a Paradise Resident.
Many aspects of voting have changed thanks to the Voter's Choice Act(VCA) of 2016. Candy was not ready for Butte County to adopt it, but the Camp Fire forced the issue. The VCA created Vote Centers offering all voting services, i.e., receive replacement ballots, submit ballots, register (right up to election day) and of course vote in person.
Candy presented surprising statistics. In Nov 2018, about 79% of Vote By Mail voters voted versus just 62% of poll voters. As of Jul 26,2019, there were 118,465 registered voters in Butte County. Currently 71% of those registered have VBM ballots. VBM Ballots arrive with a Pre-Paid Postage Return Envelope. No stamp required!
The New Vote Center Model consists of 4 salient points: 1) ALL voters will be Vote-By-Mail; 2) There will be 13 Vote Centers, any of which are accessible by all voters. They will be open 4 days before election or 11 days before election depending on location. All will have language assistance; 3) Besides the Vote Centers, there will be 9 additional Ballot Drop Box locations; and 4) Conditional Registration will be available at any Vote Center.
The information in Candy's presentation is not available, as a package, online yet. If you would like a copy of her PowerPoint presentation, contact Donn T. At 8.73 MB, it's a little large to email, but flash drive transfers are easy. You may want it as a refresher or to show to family and/or friends.
FUTURE PROGRAMS
10/17/19 – Doug Teeter, Butte County Supervisor
10/24/19 – Michelle John, A Pre-Move Reminiscence
10/31/19 – OPEN
11/07/19 – Bev Roberson, Adventist Health, Feather River
12/05/19 – Casey Taylor and Bob Irvine