Welcome To The Paradise Rotary Club

WE-CONE
Our Club's  Weekly Online Newsletter
Proceedings of the December 05, 2019 Lunch Meeting of
THE ROTARY CLUB OF PARADISE
Brian Gray, President of the Rotary Club of Paradise, began this Lunch Meeting with an Invocation by Patrick M. and the Pledge of Allegiance led by Bob D.
Table Introductions:
Steve C. rose to introduce 3 Past Presidents and guest Michelle Farier of Children's Community Charter School.
Pres. Brian interrupted Table Introductions to have Steve elaborate on the recognition he received Wednesday evening. Steve explained that he was recognized by the Paradise Ridge Chamber of Commerce as a Citizen of the Year at the Awards & Installation Dinner. Also recognized were County Supervisor Doug Teeter and Town Councilor Mike Zuccolillo. Steve said he was surprised and gratified at the recognition.
John H. introduced guest Theresa Draper of Farmer's Insurance. Ron J. introduced guest Scott Blow, a professional contemporary of Bob I. and Jim Broshears of the Butte County Fire Safe Council. Kathy M. was seated with 3 Past Presidents and a PDG, but no guests. Casey T. introduced Kelli Gordon, on the cusp of membership, and Kelli's husband Mike.
RAFFLE
The 1st ticket draw matched the stub held by John H. Actually, the 2nd one did too! John got 2 chances, but no Queen of Hearts did he find.
ANNOUNCEMENTS FROM THE FLOOR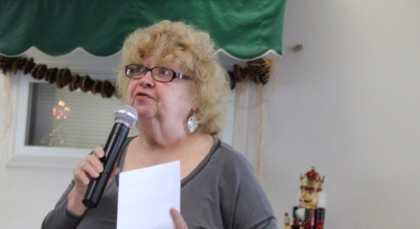 Trudi A. stood to express thanks for the support for the Interact Fund Raiser. Westside Pizza donated a portion of their profits from pizza sales on Monday which amounted to $170 and donations there added $70.00. Unfortunately, the Pizza Party on Monday night didn't collect significant cash($6.00), so Trudi decided to "pass the basket" during the Lunch Meeting. This additional effort collected $156.00. Adding it up, the Interact Fund Raiser brought in $402.00 if these facts and figures are correct. Hurray for Interact!!!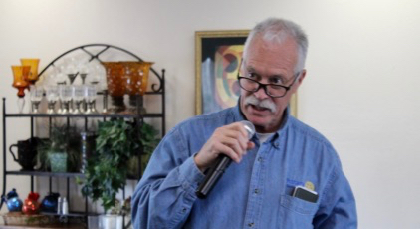 PE Tom B. called attention to the fact that this Lunch Meeting was BOD Election Day! He passed out ballots, instructing everyone to vote for 3 candidates. In a very short time ballots would be collected and the votes tallied. And the results were: Bob I., Kevin K., and Scott S. will be Board of Directors taking office on July 1, 2020 and serving for 2 years. Jon W. will stay on as Treasurer. Heidi E. will serve as Secretary and Sherry S. will serve as Executive Secretary.
Sonny V. sneaked in a mic-less announcement for the Positive I Dance Studio. (Fooled him, I took notes.) The Dance Studio will be holding a Fund Raiser Program on December 6th at PPAC with the hopes of supplementing their Paradise Re-building Fund. Contact either Positive I or Sonny for more details.
Pres. Brian called on Jim Broshears to give us a special, short, but important presentation on the Fire Damaged Tree Removal Program. Most of the information Jim passed on can be found at: https://buttecountyrecovers.org/private-property-tree-removal/. But Jim filled us in on a few additional details. The Fire Safe Council has applied for a $500,000 Grant to financially assist private property owners with tree removals, especially where the dangerous tree is on a neighbor's property. Many of those neighbors are unreachable, but the trees are still there. Also, Jim speculated that trees endangering private roadways will be included in some form of removal at a reduced cost to property owners. This action is not official yet.
ANNOUNCEMENTS FROM THE PODIUM
Pres. Brian offered a few short announcements.
❄︎ Salvation Army Bell Ringing will take place on Friday, 12/6 (past) from 12:00 to 6:00 PM at the Holiday Market in Paradise. Not many people had signed up via email by Lunch Meeting time, so Pres. Brian passed around a clipboard and sign-up sheet. (Bell Ringing did take place after all.)
❄︎ The Paradise Seventh Day Adventist Academy is holding a Holiday Party for their youth at their School in Chico on Sunday, 12/8. They need help setting up chairs, etc. It'll happen at 10:00A.M. The facility is called Chico Oaks School and it's at 1859 Hooker Oak Avenue, Chico.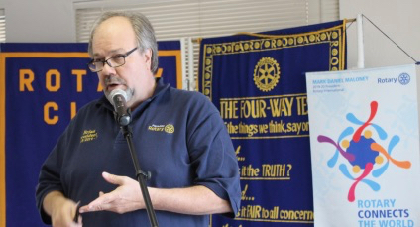 ❄︎ For many years now our Club has been successful at receiving District Grants. For this to happen, Grant Requests must be written and submitted. For that to happen, members must be trained in the art of Grant Writing and submission. That training is happening in Woodland on January 25th, 2020. We need a few Club Members to attend the training. When we identify Paradise community improvement projects, we need the money to accomplish them. The money is accessible through District Grants. BONUS: Attend the training and you get a free lunch!
❄︎ We're still in need of Lunch Meeting Programs. We have them lined up to January 9th, 2020. Think people, think. There might even be a really creative Program lurking in the mind of one of your fellow Club Members. Alternatively, pull out that stack of business cards received from all the interesting people you've met during the year. When you come up with some prospects, contact Pam G.
NEW MEMBER INDUCTION
To induct Kelli Gordon into Club Membership, Pres. Brian read a very appropriate Member Induction script he wrote. He covered all the basics and added his own insights as to why and how Rotary Membership is important. Listening carefully to an Induction Ceremony does a nice job of reminding us why we're Rotarians. Witnessing us at a lunch meeting is not impressive. Discovering what we do and getting to know who Rotarians really are is very impressive. Our actions are guided by the Four-Way Test. We are motivated by our motto of Service Above Self. We are inspired in knowing there are Rotarians around the world that hold our same beliefs.
OUR LUNCH MEETING PROGRAM
Casey T., Kelli G. and Bob I. each treated us to a reprise of their earlier presentations, but this time featuring the results of their tireless efforts. Both faced the daunting task of relocating entire enterprises. Casey and Kelli "tag teamed" during the Achieve Charter School portion.
Achieve Charter School:  Following the Camp Fire, Casey scrambled for find a suitable site at which to relocate all of her classrooms, teachers, and students. She and staff sought help from virtually every church site in Chico, seeking suitable temporary classroom space. She was graciously accepted at Life Church at 1494 East Ave. in Chico. What happened next was just short of miraculous. The church leadership approved the construction of a relocated Achieve K-8 school using temporary classrooms. The students & staff moved to the Life Church classrooms 3 days after the fire and resumed school sessions while their "new" school was constructed.
Credit for completing the project goes to not only Casey's drive and determination, but to the Achieve Board, Staff, and financial sponsors. Casey presented the above amazing story using multiple slides of pictures accompanying her narrative which included a mountain of detail.
California Vocations:  Bob began by summarizing who California Vocations is and what they do. They provide residential and day program services for developmentally disabled adults. He hit the high points of his earlier presentation which detailed the events of November 8, 2018 and the hectic actions in the days and weeks that followed. Bob also used slides with photographs to accompany his narrative. Here are the highlights.
California Vocations owned 5 client residential homes, while 38 of our 52 clients rented their own homes throughout the Ridge community. All were lost. Lost also were all the buildings on their 5 acre campus and the COVE building. Fortunately, all 52 clients and 252 employees evacuated safely. The staff was responsible for those 52 clients on the Ridge 24/7. Some employees experienced major trauma and have not been able to return. Also, 98 employees moved away from the area as there was no affordable housing other than the local shelter.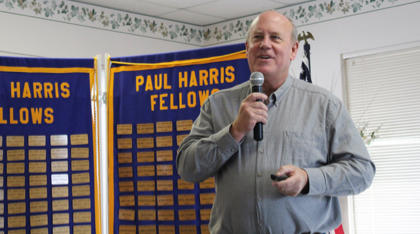 The company was lucky to rent three homes and office space immediately in Chico.  Other employees scattered to hotels over 90 miles away to the north, south, east and west, including the Woodson Bridge campground.  Although everyone was safe, it was not sustainable.  Through networking with state and local representatives we found the Migrant Home facility in Williams, CA, 60 miles away.  It consisted of 41 duplexes on a private cul-de-sac. This also was not sustainable as we could only stay until February 28 because the agricultural workers were returning March 15. Utilizing FEMA trailers was not viable for functional and scheduling reasons. So, their Board of Directors opted for buying 15 homes within 30 miles of Chico with insurance settlement proceeds. That took place within a week.
FUTURE PROGRAMS
12/11/19 – Club Holiday Party, It's A Wednesday! Butte Creek Country Club @ 6:00 PM
12/19/19 – Tom Gagne
ENTER MTG MAKEUPS ON THE DISTRICT DATABASE
Chico Sunrise – Thurs 6:45 AM, Canyon Oaks Country Club
Chico Noon – Tues Noon, Elks Lodge (East Ave. & Manzanita)
Colusa – Tues Noon, Colusa Country Club (On Hwy 20)
Corning – Wed Noon, Rolling Hills Casino, Corning (By I5)
Durham – Tues 6 PM, Butte Creek Country Club (South Chico)
Orland – Mon Noon, Round Table Pizza (302 E. Walker St.)
Oroville – Tues, 7:00 AM, 2385 Montgomery St., Oroville
Oroville – Tues, 12:00 PM, 2385 Montgomery St., Oroville
Paradise – Thurs, 12:00 PM 2565 Zanella Way, Chico
Willows – Thurs Noon, Round Table Pizza (1237 W. Wood St.)
Rotary Club of Paradise Board Meetings:
Monthly, 2nd Thursday at The Farmers Skillet restaurant,
690 Rio Lindo in Chico. @ 7:00 AM