Welcome To The Paradise Rotary Club

WE-CONE
Proceedings of the March 12, 2020 Evening Meeting of
THE ROTARY CLUB OF PARADISE
IN PARADISE
Brian Gray President of the Rotary Club of Paradise, began this Evening Meeting with an Invocation by Larry H. and the Pledge of Allegiance led by Jim J.
Table Introductions:
Larry H. claimed a table of fantastic Rotarians and Andrea's guest, husband Clay Reid. Gregg M., doing his premier Table Introduction, noted that he was seated with 2 guests, eventually identifying them as Linda Irvine and Paul Bellefeuille. Casey T. was seated with 1 guest, Earl Kilmer, who is rumored to be seeking property in Paradise! Yea! Sherry S. held down the Kid's Table duties solo this week.
RAFFLE
Yes, we even had a Raffle this week. Lucky ticket holders were Andrea R. and Bob I. No Queen. The card deck is dwindling, the (money) pot is growing. Time to buy tickets!
ANNOUNCEMENTS FROM THE PODIUM
Pres. Brian began with the major topic of the day, COVID19. The District Assemblies of the next 2 weeks have been cancelled. The District Conference in May has been postponed. Regarding the Rotary International Convention in Hawaii, it is probably being examined; no decisions yet.
Pres. Brian noted that CA Governor Newsom's directive on gatherings Wednesday was advisory, not an edict. As for our Tommy Castro Concert, Pres. Brian conferred with Woody Culleton, PPAC manager. They agreed that it would be safe (so it took place as planned). He received calls asking about the concert and even folks from Sacramento happily planned to attend.
Club Board of Directors Meeting Summary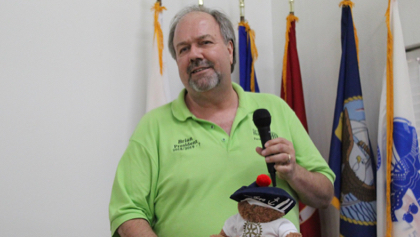 The Board decided to send the Rotarians in Tennessee $3000 of Club Funds for disaster assistance. We previously sent money to Clubs in Ridgecrest after the earthquake, to Clubs in Alabama after a tornado, and to Australia to assist with their wildfire recovery. These outgoing donations follow in the spirit of help we received when we needed it. No matter the dollar figure, we know first hand the old adage, "It's the thought that counts."
The recently developed Club Purpose Statement will be voted on by the Board next month.
We are sending 2 – 7th graders to Rotary Camp this summer. This is a first because it is a new camp! Still no candidates for Camp Venture, the Business Plan Camp. (See Earl Kilmer's comments below.)
The Board received and approved a Letter of Resignation (due to personal reasons) from John Holzwarth. Also, Taylor Gilmore was granted a Leave of Absence until July 1st.
Bill M. says Skyway Cleanup will happen on March 28th, 8:00 AM. Meet at the Park & Ride lot on Skyway adjacent to where the CofC used to be. Safety Vests & Pickup Tools are provided. It's fun, it's social, it's community service!
Pres. Brian continued, Friday night(past) he and PDG Pam are hosting a New Member Welcome party at their house. Three new members will be welcomed: Kelli G., Gregg M., and Aaron S. These gatherings are an opportunity to get to know our newest members and for them to get to know you.
This Evening Club Meeting was held in Paradise beginning at 6:00 PM. The attendance was good; comparable to the attendance at our Lunch Meetings in Chico. The future scheduling of these meetings is up to the Club. Note that it is not mandatory that we hold our Meetings on Thursdays. We need to select meeting days and times that best suite the Club.
Related to the above, on July 1st the Club will install PE Tom B. as President. He is seeking input on the way forward. Topics for him to consider include Club Meetings, Community Projects and a major District Grant Project for the coming year. His ears are open.
Pres. Brian called on visiting Rotarian Earl Kilmer, District Leadership Council Member to offer some details about Camp Venture. Earl explained that the week long camp presents attendees with the challenge to imagine a business, create a business plan, write a report and present the package to a panel at the end of the week. Earl has taught at the Camp for years. He described it as the finest business development training camp with which he's ever been associated. The instructors are Rotarian business people. That says it all. Contact Trudi A. or Pres. Brian with names of candidates. The deadline is March 31st!
Pres. Brian reminded us that to replace our burned up Rotary garb and accessories, go to russellhampton.com. Or, locally, Steve & Lori Crowder of A Stitch Above will embroider Rotary Logos and names on shirts you take to them. They also have a catalogue from which you can choose clothing. The beauty of this is that the wearer chooses the style, fabric, and embroidery.
OUR EVENING MEETING PROGRAM
PE Tom Baker provided our Program for this Meeting. It consisted of his experiences and impressions of his recent attendance at President Elect Training Seminar(PETS). He related 3 major areas of impression he came away with.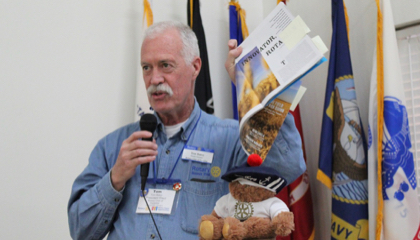 First, he was received as a Rock Star. During round-robin introductions when he introduced himself and thanked all the other District Clubs for their support of our Club, the room "erupted in applause." On multiple occasions he was recognized as a celebrity by individuals and groups. These included the encouragement by one individual to be introduced to the next RI President, Holger Knaack, who was in attendance at PETS. RI PE Knaack "wanted to meet someone from Paradise." Tom even got a picture taken with Holger.
In another amazing instance, Tom was approached by the PE from the Rotary Club of the San Francisco Airport. She explained that their club really wanted to do a Fund Raiser for Paradise. She said, "They want to do a 5K run through the streets of Paradise." Tom had to counsel her that it wouldn't really be safe. He suggested instead that they plan a run through Bidwell Park, then come to Bille Park in Paradise for a celebration picnic.
Tom emphasized his interest in Shelter Box. It is an international NGO that began in the UK, but has expanded to having affiliates and partners around the world. They are official project partners with Rotary International and Rotarians around the world who help them to connect with local communities more quickly when disaster strikes. They did a presentation at a Lunch Meeting in 2010 that left a sustained impression on Tom. He would like us to become connected with their efforts. Go to their website for the amazing details.
Tom also stressed the importance of reading and passing on the Rotarian Magazine. This month's issue, for example, featured the story of a Rotarian in Montana, a wheat farmer, who is growing wheat of an ancient variety organically. Bob Quinn has created jobs in his hometown by milling the wheat locally and marketing it as his own business. Tom also pointed out that this issue contains interviews of 3 people, out of the millions, that are fleeing Venezuela. Apparently the power of the Rotarian Magazine was highlighted at PETS.
FINAL COMMENTS
Kelli G. put out a pitch for Rotarians to attend the Senior Project Review sessions. Many Club members have participated in past years and claim it is fun and inspiring. Contact Kelli for dates, times, and locations.
Kevin K. reminded us of the Interact Club Silent Auction happening at the Tommy Castro Concert. The items being auctioned were donated in an effort to raise funds for the Interact Club to do community projects. Also, another fund raising opportunity will take place on Monday, Mar 16 at Westside Pizza. Buy a pizza any time during Monday and the owners will donate part of the price to Interact.
FUTURE PROGRAMS
03/19 – Don Yeo – United States Census
03/26 – Gregg Mowers – Bio & Vocational Talk
04/02 -Aaron Singer – BIO & Vocational Talk
04/09 – Mike Crosby, Rotary Club of Brentwood – Experiences at Polio Immuniz. Days in India
04/16 – Raeann Bossarte, CA St. Park Ranger, Bidwell Mansion, "John & Annie Bidwell's Life & Legacy"
04/23 – Sierra Schmidt – Home and Heart
04/30 – Dr. Theodore Zwerdling, M.D., Adventist Health – The Need For Vaccines
ENTER MTG MAKEUPS ON THE DISTRICT DATABASE
Chico Sunrise – Thurs 6:45 AM, Canyon Oaks Country Club
Chico Noon – Tues Noon, Elks Lodge (East Ave. & Manzanita)
Colusa – Tues Noon, Colusa Country Club (On Hwy 20)
Corning – Wed Noon, Rolling Hills Casino, Corning (By I5)
Durham – Tues 6 PM, Butte Creek Country Club (South Chico)
Orland – Mon Noon, Round Table Pizza (302 E. Walker St.)
Oroville – Tues, 7:00 AM, 2385 Montgomery St., Oroville
Oroville – Tues, 12:00 PM, 2385 Montgomery St., Oroville
Paradise – Thurs, 12:00 PM 2565 Zanella Way, Chico
Willows – Thurs Noon, Round Table Pizza (1237 W. Wood St.)
Rotary Club of Paradise Board Meetings:
Monthly, 2nd Thursday at The Farmers Skillet restaurant,
690 Rio Lindo in Chico. @ 7:00 AM