Welcome To The Paradise Rotary Club

WE-CONE
Proceedings of the July 30, 2020 Virtual Lunch Meeting of
THE ROTARY CLUB OF PARADISE
Thomas Baker, President of the Rotary Club of Paradise, began this Virtual Lunch Meeting with an Invocation by Larry H. and the Pledge of Allegiance led by Gregg M. while Brian G. waved the flag.
Introduction Of Guests:
Guests this week were District Governor Mark Roberts, Assistant Governor LeAnn Chrisman and our Speaker, Swede Hanski.
ANNOUNCEMENTS FROM THE PRESIDENT
Pres. Tom noted that original plans were for the Club to meet on this date at Bille Park. But during the week, stricter COVID-19 social distancing rules were announced by California's Governor Newsom. Pres. Tom continued by expressing his intentions for the Club to meet in Paradise once a month in the future at some outdoor venue where we could properly socially distance ourselves.
Pres. Tom asked DG Mark Roberts to share some good news for the Club. DG Mark began by stating that "two weekends ago the 10 Grant Review Committee members got together and did a heck of a job." It was a challenge because 31 Clubs submitted Grants, which is more than usual.
Clubs submitted Grants for Chrome Books to assist in Distance Learning, PPE Purchases, Food Assistance Programs, and more. These requests totaled over $300,000. Unfortunately, there is only $180,000 in District Grant money to share. The Committee set priorities. Our Club's request was for $10,000 and we were Granted $3,000. You could tell from his tone he was uncomfortable giving us this news. Mark noted at length how supportive of the Rotary Foundation our Club has historically been. He encouraged us to submit another Grant Request next year to add to this year's Grant money.
"Doing the math," you'll calculate that if the Committee averaged the Grants, each club would receive just north of $5800. That's not much to fund the huge needs in truly humanitarian projects, even here at home. Considering Rotary's humanitarian efforts worldwide, the committee's bias is pretty easy to understand.
Pres. Tom received a request from Mike Crosby, District 5160 End Polio Now Campaign Coordinator. He seeks a Polio Warrior to join the team. A Polio Warrior would be in contact with Mike to receive the latest End Polio Now news, updates on eradication efforts, and contribution statistics. The Club Member Polio Warrior would be the End Polio Now motivator and distributor of information to the Club. Mike is a member of the Brentwood Club. His email address is: mike@whitewatergroup.com.
Pres. Tom noted that Treasurer Jon W. was not on screen, but at the last Board of Directors Meeting Jon said we had money in the bank. So Pres. Tom says we'll just keep on spending.
Pres. Tom saw that Secretary Heidi E. was not available, nor was Membership Committee Chair Aaron S. So he asked if Brian G., a committee member, had anything to add. Brian stated that Aaron has begun to develop duties for committee members. This should help get more people involved with guidance as to what they can contribute. Brian said that this should form a solid Membership Program.
Next, Pres. Tom called on Paradise Rotary Foundation Board President, John R., and asked if the Foundation had received any new Grant Requests. John responded that no, they have not received any new requests, just more information related to a previous request.
Pres. Tom called on Brian G. to furnish an update on the International Project Grant Request. Brian explained that he has been in contact with RI Grant Review folks. The Project Grant was initially denied, but Brian says it's back on the table being examined by at least some people at RI. There is hope. Brian received an indication that the Grant could receive $50,000 from a Club in Korea. Brian and Cory B. created a $300,000 total budget for the Grant, with portions of the money coming from various sources. As Brian puts it, "The Grant is on life support, but not dead yet."
OUR ZOOM MEETING PROGRAM
Bob I. introduced our Speaker, Swede Hanski, owner/manager of Swede's Small Engine Repair. Swede has lived in Paradise a cumulative 30 years. He said he first lived here at the age of 8 and his family left and moved back a couple of times. He graduated from Ridgeview High School and attended welding classes at Las Plumas High School in Oroville. Swede and wife Stephanie are raising 4 daughters. Stephanie is a US Marine Corps veteran.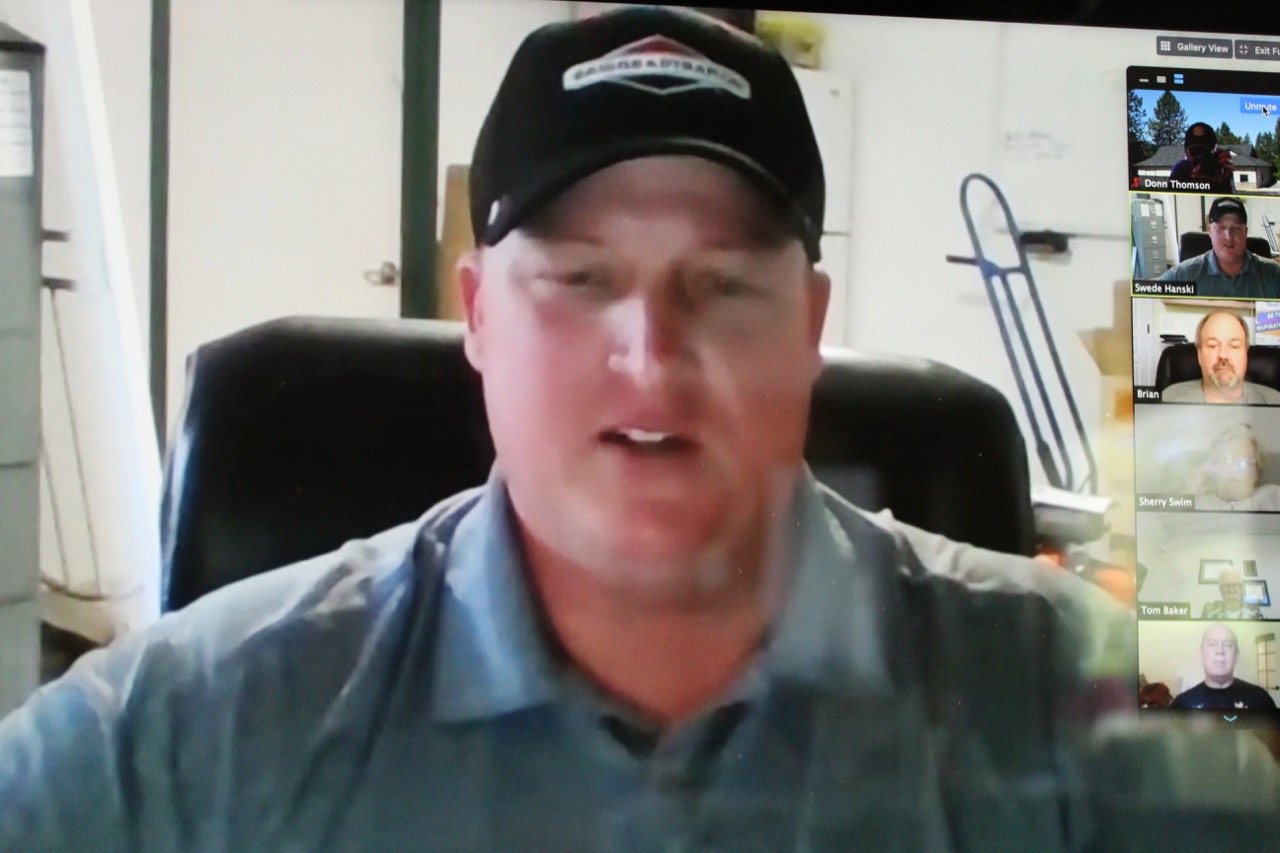 Swede has always had an interest in farming to the point that their major business will be Hanski Family Farms. Part of that business is obtaining and employing goats to clear weeds and brush to enhance wild fire safety. Swede is currently attempting to secure a contract with the Fire Safe Council to clear designated parcels. He reports he has 20 goats now and hopes to add 10 more soon. Using livestock to clear land is not a new idea. It is extremely eco-friendly in that it is quiet, non-polluting, fast, and it's cost competitive.
Swede was a locomotive engineer for Union Pacific for many years. Good money he says, but crazy hours. When they purchased their present home in upper Coutolenc, Swede took a leave of absence from Union Pacific to begin focusing on his main interest: farming. Swede said he and Stephanie returned to their Lovelock property after the Camp Fire and didn't have much to do. So they parked their truck at the wide turnout in Magalia and provided free coffee, hot chocolate, and donuts to the residents the day after Thanksgiving. That connection of service to the community paid dividends later.
The Hanskis opened a restaurant high on the Ridge after the Camp Fire and developed a good following. When businesses began re-opening, restaurant customers dwindled, so they closed the restaurant. Along the way, Swede met Bob Irvine. Recognizing a niche opportunity, Swede decided to open his small engine repair business in the former COVE recycling center in Paradise. Swede reports that the business did much better than expected. Swede connected with landscapers and loggers, with those earlier community connections paying off.
Using business acumen Swede married his interest in farming with his connection to the land clearing need, hence, the goats. If the Fire Safe Council Contract works out, he'll buy more goats and offer residential lot clearing. On the farming side, the Hanski Family Farms will produce seasonal fruits and vegetables for local sales. Excess will be donated appropriately. Swede is planning on a pair of 20' X 60' green houses to facilitate farming on the Upper Ridge. Their biggest challenge is determining how much is adequate, but not too much.
Swede is interested in Rotary Club membership. Based on his track record, Swede's sensitivity toward community service, and his energy, Swede is the type of person we would gladly welcome into the Club.
FUTURE PROGRAMS
08/06 – Joelle Chinnock, Paradise SDA Church, Love Paradise & Camp Fire Shed Project
08/27 – Katie Simmons, TOP Recovery, BRC Topics Going Forward
ENTER MTG MAKEUPS ON THE DISTRICT DATABASE
Example: Since Clubs aren't meeting in person, to generate a Make-Up consider a Service Activity with other Club Members or another Club. As time goes on, opportunities will increase. Stay tuned in.
Rotary Club of Paradise Board Meetings:
Monthly, 2nd Thursday at Your Preferred Computer Screen
Meetings will likely be at 8:00 AM via Zoom. Watch for announcement emails.