Welcome To The Paradise Rotary Club

WE-CONE
Proceedings of the May 21, 2020 Virtual Lunch Meeting of
THE ROTARY CLUB OF PARADISE
Brian Gray, President of the Rotary Club of Paradise, began this Virtual Lunch Meeting with a Rotary Thought for the Day, by him, and the Pledge of Allegiance also led by Himself, waving a screen sized flag.
Introduction Of Guests:
Since our Program for this meeting was homegrown, our Speaker was not a guest. We did have one important guest, however. Tom Taylor, PUSD Superintendent joined us again today!
Here's a contribution from Andrea R.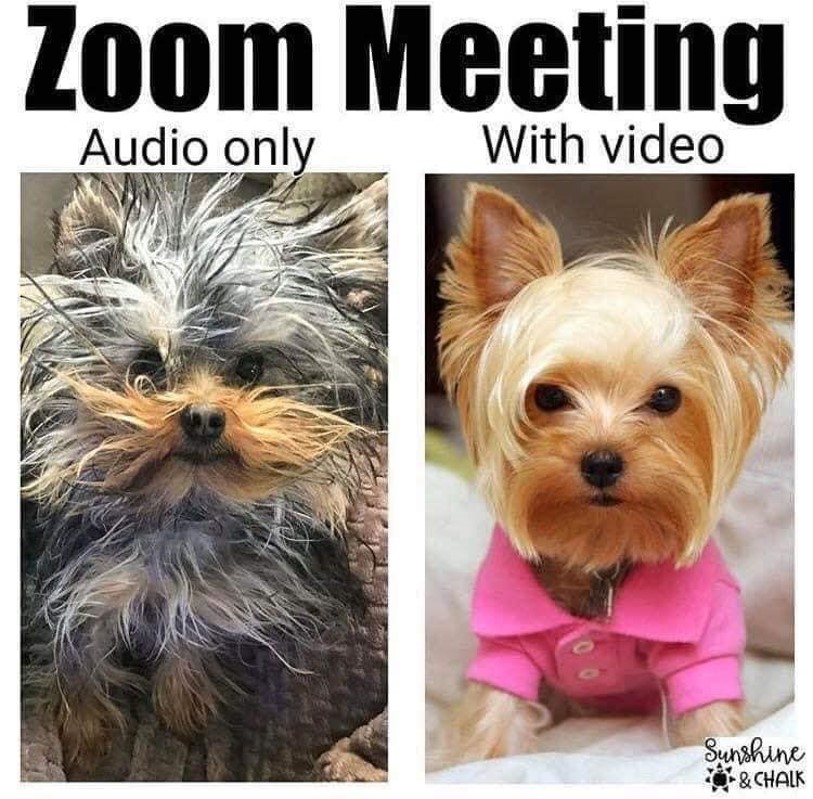 ANNOUNCEMENTS FROM THE PRESIDENT
Pres. Brian noted that it was Cory B.'s Birthday! Also, Lori Crowder's birthday was sometime around this date. Never missing a chance to be festive, the members in attendance burst into song; "Happy Birthday," of course.
Sonny V., of Tri-Counties Bank fame, has taken on a new endeavor. He is available for all things business during this coronavirus pandemic time. Pres. Brian mentioned he'll be doing a Meeting Program soon, explaining what is offered. The Bank's website states that, "Financial assistance is available to businesses affected by the Coronavirus outbreak," and lists the types of things Sonny will no doubt be telling us about.
Pres. Brian let us know that the Paradise Parade Of Flags will happen on Monday, May 25th! It's acknowledged that this is a short notice event. Steve C. is organizing the effort and he's looking for help. Contact him to let him know that you'll assist or just show up at original Elk's Lodge property on Clark at 6:00 AM on Monday. Flag retreat will happen at 4:30 PM commencing at Neal Road and Skyway. According to Steve, there are about 400 flags to display. This reduced number is due to placement holes needing repair and the need to assemble more flags on poles. No date for either part has been announced.
Pres. Brian stressed once again that every Member should pay their dues as soon as possible. The Club must pay District and RI dues on July 1st. Those dues are based solely on our Official Membership Roster. Our Official Membership Roster is based on members current on their dues. Pres. Brian said that a "Potential Drop From Membership" letter will be sent out on or about June 15th. Help the Club by contacting any member you know has moved and may not be renewing membership. Let him/her know the situation.
The Assistant Governor from Yolo County, Duane Ewing, visited Paradise because he wanted to see what we've been up to and take a tour. So, Pres. Brian did just that. Duane spent time here in his youth, but hadn't visited since the fire. Duane plans to challenge fellow AG's to persuade all the members of their respective cubs to donate $20 each. If they come through, it would provide us with more than the $60,000 that our Club needs to qualify for District and RI matching grant assistance.
ANNOUNCEMENTS FROM THE MEMBERSHIP
A Paradise Rotary Foundation Update
John R. provided an update on the achievements of the Paradise Rotary Foundation. He led off with a fact worth celebrating. The Paradise Rotary Foundation has now issued Grants in the total of $1,045,000.00 toward the rebuilding of the Paradise community. This is a pride inspiring fact considering this sum was sourced from an individual Service Club.
John also let us know that 2 Grants were approved at the Board Meeting on Wednesday, May 20th. The first is a Grant to the Plantation Homeowners Association to replace 89 water meters. This settlement will be rebuilt quickly with manufactured housing. The 2nd Grant went to the Magalia Community Park. The plan is to restore a portion of the golf course property into a community park configuration.
Lastly, the Board decided to set aside roughly 20% of the $1.9 Million that has been donated to be used for "truly impactful" projects toward the rebuilding of Paradise. Funds remaining in the Foundation total about $850,000.00. The "set-aside" funds amount to about $380,000.00. Donations have slowed, but through continued awareness campaigns, it is hoped that more money can be secured.
Moving on, Andrea R. asked an open question regarding the $7.1 Million cut from a grant to PID. Gregg M., a PID Board Member, responded that part of the money promised from the state has been paid. Also PID is waiting for FEMA funds which haven't arrived. The result is the "push-out" of planned infrastructure projects. Budget and funding support meetings are on going, with some resolution updates possible next week.
Sherry S. gave us an update on the status of PUSD graduations. PUSD leadership had an emergency meeting the evening previous to our Lunch Meeting and the result was deciding to do "Drive-Thru Graduations." Tom Taylor participated in a discussion with Sherry during the meeting. Understand that this is a dynamic situation. Tom is still working on details and Sherry is trying to organize the workforce based on the outcome of Tom's efforts. As of this writing, work assignments, i.e., specific tasks for people had not been set. Anyone who has signed up to help should watch for emails from Sherry during the week.
In spite of the above, Tom Taylor reported that even lacking permission to do what he and District Leadership wanted, the whole event will be meaningful and memorable for the students. Tom is working on making the "Drive-Thru" happen on the track at the football field using plywood on the track surface. Although the final operational design has not been announced, it appears that families will enter in cars at the South and exit at the North of the football field. No doubt people will be needed to guide the cars along the route. Stay tuned.
Tom did reassure us that the dates haven't changed. The PHS Graduation is planned for June 1st & 2nd, Intermediate School Graduation for May 21st & 22nd, and Ridgeview HS for May 27th, 28th, & 29th.
Trudi A. revealed the final plans for the presentation of the Rotary Service Above Self Scholarship Award certificates. The event will take place at the Dutch Bros. store at Center St. & Skyway on Friday, May 29th, at 3:00 PM. The recipients will drive through Dutch Bros., receive a beverage and receive their certificates upon exiting. Trudi requested a "Congratulations" banner be made, so Aaron S. stepped up to try to get one printed. To enhance the festive nature of the event there will be a balloon release in the recipients honor. Trudi has arranged for the Fire Department to be there to add presence. She hopes for media coverage. Everyone in the Club is invited in as much as all the recipients are Interactors!
OUR ZOOM MEETING PROGRAM
Our Program for this meeting was presented by Gregg Mowers. It consisted of his bio including his activities since he's lived in Paradise. Gregg is a 5th generation Californian, born in Rancho Palos Verdes in So. Cal. He grew up in the Almaden Valley and graduated from high school there. After a short college experience, he joined the USAF and remained there for 21 years.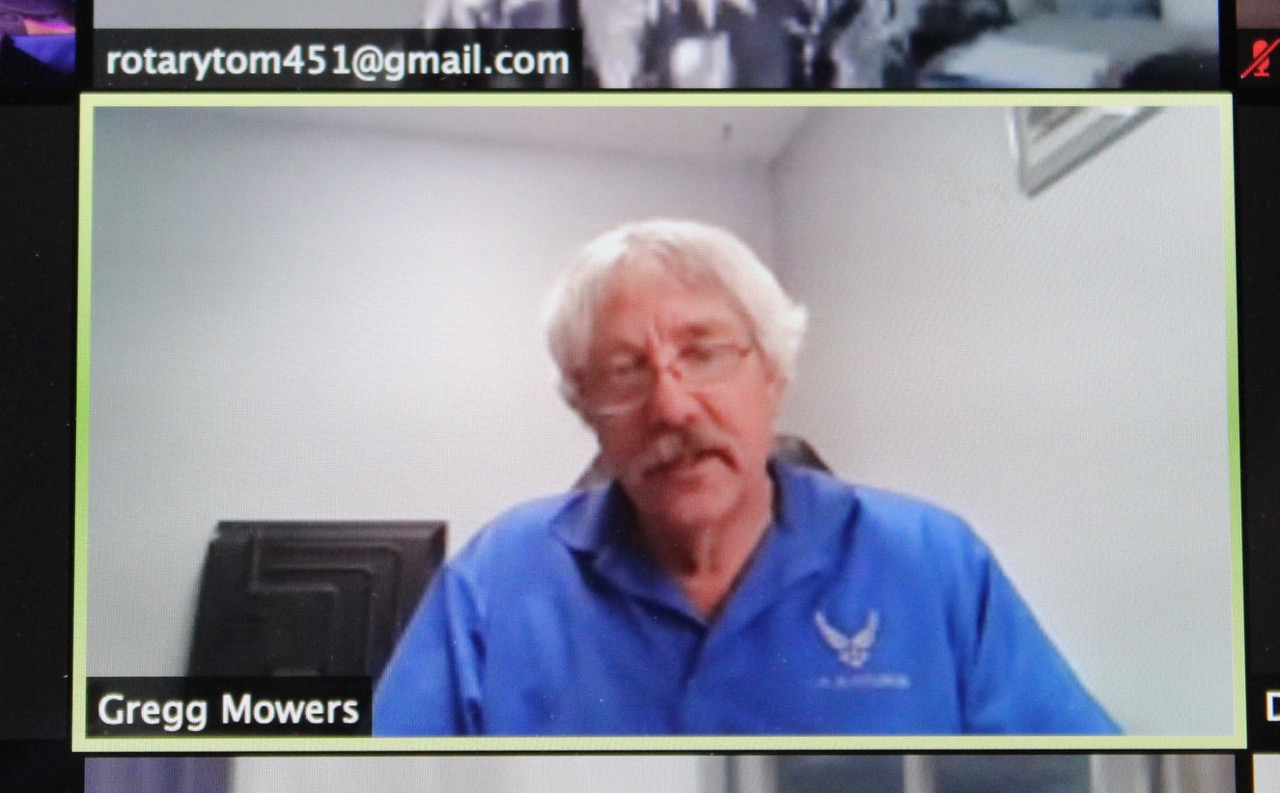 During his first 14 years of active duty, Gregg carried a Security Police AFSC, then he turned to recruiting. While on the Security force, he did 2 tours in Germany and a 1 year remote assignment in Greece living in a seaside hotel. His next assignments were to Cheyenne, WY. followed by Sacramento at Mather AFB, which he assisted in closing. Then he jumped to AF Recruiting Service in the Northern CA region. When he began management of the Region, it was ranked 93rd out of 128 Regions. When he retired 7 years later, it was ranked #1. Of the recruiters in the Region, Gregg said, "They just needed guidance."
A friend who attended Gregg's AF retirement ceremony offered him a job managing the friend's jewelry store. A short while later, Gregg and his wife Elke decided to buy the business. In the course of things, Gregg suffered a shoulder injury and decided to close the business. Maureen Johnson invited him to become a realtor and so he did.
Gregg mentioned that he has a degree in Health Care Facility Management. After a time as a Realtor, he moved into Health Care Facility Management. The stars aligned and he was offered the job of establishing a brand new facility, from the ground up. Gregg said there was a lot to learn, do, and manage. He included watching construction, hiring staff, licensing of facility functions and equipping the facility. It was exhausting and so he returned to Real Estate, joining Coldwell Banker. He retains that affiliation to this day.
After all these intense career experiences, Gregg and Elke have decided they needed to see the US. So they visited 16 National Parks in 2 years, racking up between 9 and 10 thousand miles. Gregg plans to visit many more. Over the years, Gregg has owned (he claims) about 120 vehicles. Some for restoration, some to fix up and sell, and some to sell without restoration.
Gregg says he wants to help bring Paradise back to "a bustling community." He unequivocally says he wants to help. Although he resisted involvement for years, now he feels he belongs in Rotary because the Club's goals for Paradise align very closely with his goals for Paradise. And of course, we're glad he's a part of our family.
FUTURE PROGRAMS
05/28 – Cory B. – Youth Exchange Update and Future Outlook
06/04 – Bob G. – 2020 Taxes & Camp Fire Influences
06/XX – Demotion Dinner/Zoom Party/Drive Thru, Or Something Else?
ENTER MTG MAKEUPS ON THE DISTRICT DATABASE
Example: Since Clubs aren't meeting in person, to generate a Make-Up consider a Service Activity with other Club Members or another Club. As time goes on, opportunities will increase. Stay tuned in.
Rotary Club of Paradise Board Meetings:
Monthly, 2nd Thursday at Your Preferred Computer Screen
Meetings will likely be at 8:00 AM via Zoom. Watch for announcement emails.