Welcome To The Paradise Rotary Club

WE-CONE
Our Club's  Weekly Online Newsletter
Proceedings of the July 11, 2019 Lunch Meeting
Brian Gray, Club President, started this Lunch Meeting with an Invocation by Gary L. and the Pledge of Allegiance led by John H.
Table Introductions:
We didn't have any Table Introductions, actually. One guest, needing no introduction was former Club Member, Dr. Mike Viali.
WE-Cone ANNOUNCEMENT MOMENT
Donn T. said the newsletter moved to the Web Page to cut down on production and broadcast time. It will remain relevant and useful for publicity if Club Members contribute pictures and text. The WE-Cone is meant to be more than a report of the last meeting. We should tell the Rotary story in Paradise.
ANNOUNCEMENTS FROM THE FLOOR
Visiting former Club Member, Dr. Mike Viali took the mic to explain a Theatre On The Ridge(TOTR) instigated fund raising announcement. Mike held up a sealable drinking glass that will be sold at TOTR, PPAC and Party In The Park. Mike joined us to sell the glasses for $5.00 versus the public price of $3.00. All the money he collects from Rotarians will go to the Paradise Rotary Foundation. Moreover, Mike announced that he is covering the cost of the glasses he sells at our Lunch Meeting. Thanks Mike!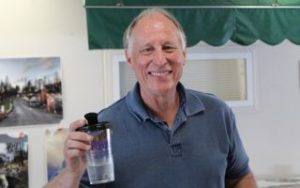 He continued with an announcement for California Care Force who are holding a free medical event at Silver Dollar Fairgrounds on Aug 3rd & 4th. He's a member of the group. These events are held throughout California. Mike came to us to solicit volunteers to assist in a number of capacities. He offered flyers describing the help needed and the benefits of volunteering. Volunteer sign-ups are strictly online. The URL for California Care Force volunteer sign-up is:
www.californiacareforce.org/volunteer/chico
Steve C. delivered 2 very exciting news updates. First, CalOES expects to have ALL the reachable property debris out of town in 60 days. Exceptions might be properties difficult to reach due to collapsed bridges or impassable roadways. Some crews will remain doing soil sampling and additional necessary soil removal.
Also, Steve C. let us know that a Bill that Congressional Rep. Doug LaMalfa wrote/sponsored will designate Paradise as a Small Rural Community. Pres. Trump has signed it and the Bill awaits the signature of Governor Gavin Newsom. With this designation, Paradise is in line to receive Federal Assistance in the amount of 150 million dollars, which Steve says will be a big contribution to the Sewer Project.
Pres. Brian announced a Painting Party at the former Paradise Intermediate School facility. The Gym needs to be painted. Sheri P. is the point of contact. All tools, materials, and direction will be supplied. They just need bodies. The time is TBD but the date is August 3rd.
Thanks goes out to those that made the Parade of Flags possible on July 4th. The District Grant Pres. Brian applied for this year includes the purchase of 200 more flags and a Shipping Container to store them in. Official notice of the Grant will come in a couple weeks. Once the flags and container arrive, there will be "Rotarizing" prep work to do to both the flag poles and the container such as Rotary Stickers on the poles and paint on the shipping container.
PARADISE ROTARY FOUNDATION ACTIVITIES

John R. took the mic. to report on the latest Grant requests and approvals. The Foundation fund balance is a little over $1.9M. John says the money is coming in a little faster than they are giving it away. So far, the Paradise Rotary Foundation has Granted nearly $155,000. The following Grants were approved at the last meeting of the Board:
A $5,000.00 Grant for the Paradise Horseman's Association.
The Magalia Community Church received a $25,000 Grant.
The Honey Run Bridge Association has applied to Butte County to receive Rights Of Way and title of the Bridge in order to rebuild it. A Grant of $25,000 is contingent on County approval.
A $5,000 Grant was approved for Curves of Paradise who will be offering healthy living & healthy eating classes conducted by professionals they have connected with.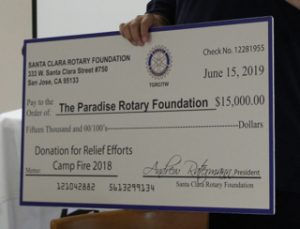 Pres. Brian added one more item for the Foundation report. A Rotarian from the Santa Clara Rotary Foundation named Andrew visited carrying a ceremonial check for $15,000 destined for our Paradise Rotary Foundation. Andrew wanted some pictures of Paradise, so Andrew and the Grays took a brief tour. Pres. Brian plans to travel to their Club in October to present our story.
John R. added one bit of late breaking news. A letter from the Shasta Regional Community Foundation was delivered in today's mail. When that Foundation's paperwork is complete they plan to send a check from the Patricia & David Kimball Fund in the amount of $20,000.
CLUB BOARD OF DIRECTORS MEETING SUMMARY

The Board approved a $2,500 donation to the Ridgecrest Rotary District for Earthquake Relief. This follows a recent equal donation to a District in Alabama following their tornado destruction. Pres. Brian explained that these are made "in kind" because of help we received from our Rotary Family. Requests for supporting International Projects were discussed and put on hold. Sherry S. was appointed to the Board to replace Sandee W. who resigned Board membership. The De-Facto Past President Board position was occupied by Past Pres. Lauren G., but she's unable to make the meetings. Past Pres. Maureen W. volunteered to fill the position.
Pres. Brian emphasized that some Club Committees need to be revived. They are Crab Feed Committee, Membership (not recruiting), Foundation, Fund Raising, and others yet to be identified. Pres. Brian says events in Paradise are being well attended, inspiring us to move forward with events and projects. He says, "So get involved." In that vein, the Board Approved to sign up to a $3,000 sponsorship for Johnny Appleseed Days.
Next, Pres. Brian acknowledged Pam G.'s contributions as an official "Make sure the President doesn't forget anything" person. She has also been assisting in locating and coordinating Programs. She has been largely responsible for the Future Programs listed in these pages. Pres. Brian called her forward to receive a token of appreciation for her contributions this year.
IMPORTANT NOTE: President Elect Tom Baker will conduct the next Lunch Meeting, July 18, 2019. Tom is getting a really early start on practicing the conducting of a Lunch Meeting! (A record, maybe?) We will all, of course, be on our best behavior, right?
OUR LUNCH MEETING PROGRAM
Douglas Keister, is a writer, story teller, photographer, and soft ball player. Recently he combined all his talents to write a photo-centric book about Paradise detailing the aftermath of the Camp Fire. Using a tripod and a drone he captured vast aerial shots, posed subject photos, and countless views of an ashen landscape. These he compiled in a book called People, Places, and Pieces Of Paradise. Douglas himself remarked that he had to do a hard sell to get a publisher to handle the job.
For our Program, using a Power Point presentation, he displayed and narrated "about 5%" of the book's pictures. He described some photos briefly, some at length. In the book, each photo has a short narrative. He had embedded some videos captured during the Camp Fire, which naturally can't be included in the book, but they seriously added to his presentation.
The new book will be published around September. Speculation from Club Members is that it will be in demand locally. Douglas himself conceded that if one celebrity publicizes it, the demand may be large. From what we saw, his work is excellent. For example, some of the photos that Brian has been traveling with were taken by Douglas Keister.
FUTURE PROGRAMS
07/18/19 – Doug Teeter, Butte County Supervisor
07/25/19 – Cory Busher – Her Bio + Vocational Talk
08/01/19 – Maria Titova – Rainforest Art Project