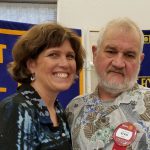 Kevin Kelly, Long time resident and retired AT&T Technician was inducted into the Rotary Club of Paradise at our January 4th meeting. Shown here with Margaret his bride of 38 years, they have two children and 5 grandchildren. Margaret is the Nutrition Services Director at Feather River Hospital.
Kevin has always been active in our community coaching sports, driving school buses and so much more. Kevin has participated in numerous Rotary activities and fund raisers so it was a natural fit for his membership in our Rotary Club.
We welcome Kevin and Margaret into our world wide Rotary Community..