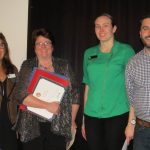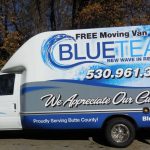 Paradise Rotarian Cindy Haskett, owner of Blue Team Realty is awarded the Special Recognition Award for   Enthusiastic Support of the Community by the Paradise Ridge Chamber of Commerce. Cindy, shown here with   representatives from Congressman Doug LaMalfa, and State Representatives Gallager and Nelson offices was   presented the award at the Chamber's annual awards banquet held January 24th at the Senior Center.
In addition Cindy and her Blue Team of Realtors were recognized for purchasing radio equipment for the new   Paradise Fire Engine 82 which was purchased with Measure C funds. (Measure C is a one half percent sales tax   increase) The radio equipment provided by Cindy and new engine were displayed recently at the Town's dedication celebration of the new equipment.
Congratulations to Cindy Haskett. A true example of a Rotarian putting "Service Above Self" for her community and world.